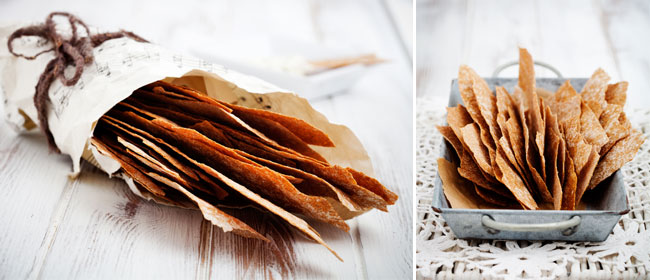 These crackers are delicious on their own, or try them with dips, aged Cheddar or caraway cheese.
Making your own crackers is fun – and much healthier than eating store-bought ones. The trick to these crackers is to roll them out as thin as possible.
Ingredients
1 cup rye flour
1 cup all-purpose flour
½ cup warm water
2 tablespoons extra virgin olive oil, plus extra for brushing
2 tablespoons caraway seeds
½ teaspoon salt
Method
1. Place all ingredients in a standing mixer (you can also do this by hand) and, using a paddle attachment, mix on medium-low until a dough forms. Switch to a dough hook and knead for 8 minutes.
2. Turn the dough out onto a bench, wrap in cling film and let rest in the fridge for 30 minutes.
3. Preheat oven to 200degC (400degF).
4. Divide the dough into two or three portions. Wrap the portions you are not working with in cling film to prevent them from drying out. Roll the dough out as thin as you can. Do this by placing the dough between two silicone baking sheets or baking paper. Once rolled out, remove the top silicone sheet and place the bottom one, with dough, onto a baking tray. Repeat with other dough portions.
5. Brush the dough with extra olive oil and sprinkle with salt (optional).
6. Bake for 8-10 minutes, or until golden. Cool before breaking into pieces.
See more cracker recipes in our free magazine Sweet Living, Issue 6.