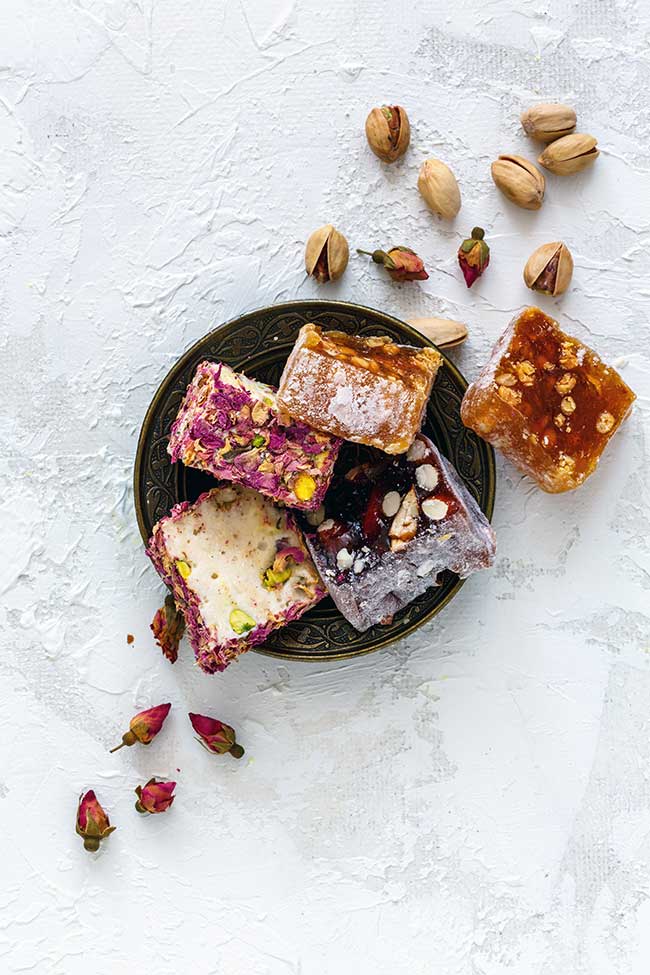 I adore nougat, though it's not particularly healthy, with all that sugar. Still, it's a lovely treat on occasion, especially for special holidays, like Christmas.
This recipe uses half sugar and half honey for a more, I think, delicate flavour.
You can add extra ingredients if you like, like dried cranberries or cherries. Add them with the pistachios and coconut.
Note: You will need a sugar thermometer for this recipe.
Ingredients
Edible wafer (aka rice) paper
75g (3oz) white chocolate
350g (12oz) caster sugar
100g (3.5oz) honey
100g (3.5oz) liquid glucose
1/4 teaspoon cream of tartar
2 egg whites, from size 6 (medium) eggs
1 tablespoon caster sugar, extra
1 teaspoon vanilla bean paste
Pinch salt
100g (3.5oz) shelled, unsalted pistachios, roughly chopped
30g (1oz) desiccated coconut
100g (3.5oz) white chocolate, extra
Dried organic rose petals (available from stores that sell Mediterranean foods and specialty teas)
Method
Line the sides and base of a 23cm (9in) springform cake tin with baking paper (ideally unbleached, compostable baking paper). Then place a single layer of wafer paper on the base.
Melt the white chocolate in a double boiler with simmering water, or a heatproof bowl that sits just inside a saucepan without touching the water. Stir until smooth, then remove from the heat.
Place caster sugar, honey, liquid glucose, cream of tartar, plus 75ml (2.5 fluid ounces) water into a saucepan over a medium heat. Stir occasionally until sugar has dissolved. Place the sugar thermometer in the saucepan and bring the contents to a boil, watching until you reach 149degC (300degF).
Meanwhile, place the egg whites, extra caster sugar, vanilla bean paste and salt in a large mixing bowl and, using a hand beater, beat until stiff peaks form.
Once the syrup reaches 149degC (300degF), remove from the heat and, with the hand beater still operating – turned to a low speed – slowly pour the hot syrup into the egg whites in a steady stream. Then turn up the speed and beat for another 3 minutes until stiff, pale and glossy.
Add the pistachios, coconut and melted chocolate and mix gently with a spatula.
Pour into the prepared cake tin and level with spatula. Cover with a layer of wafer paper. Using another, slightly smaller, cake tin, press the base on top of the nougat to make the surface level and smooth.
Leave to set overnight, then cut into pieces.
Melt the extra white chocolate in a double boiler. Allow to cool somewhat, then dip the edges of the cut nougat pieces into the chocolate then into the rose petals. Place in fridge to allow chocolate to set before serving. This nougat will keep for about a week if refrigerated.