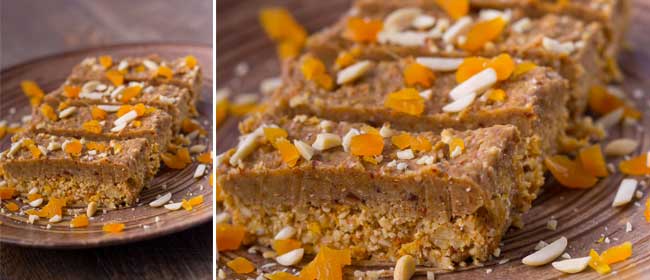 Try Jeremy Dixon's healthy bars, which feature in his latest book, The Revive Cafe Cookbook 6.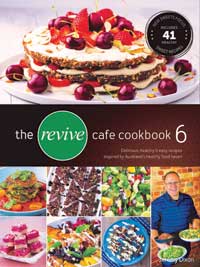 Take a squiz at Jeremy Dixon's new book for lots of wholesome, healthy treats. Inside, you'll find easy recipes from Auckland's Revive cafes, which serve over 3000 healthy meals each week.
Revive's delicious vegetarian food contains whole grains, plant-based protein, fresh produce and virtually no processed sugars or flours. The majority of the dishes are also dairy and gluten free.
Prepare your tastebuds for quick, delicious, healthy food.
Reprinted with permission.
Moreish Ginger & Apricot Slab with Almonds
A lovely flavoursome ginger sweet. You only need little portions of this one.
Makes 8 large serves.
GINGER BASE
1 cup almonds
½ cup dried apricots
½ cup rolled oats
3 tablespoons fresh ginger
½ teaspoon clove powder
1 tablespoon honey
TOPPING
1 cup dates
¼ cup hot water
¼ cup almonds
4 tablespoons coconut oil
garnish: slivered almonds
garnish: sliced dried apricots
1. Soak the dates for the topping in hot water.
2. Put all base ingredients into a food processor and process until a clumpy mixture forms.
3. Select a non-stick loaf tin 10x20cm (4x8in). Press the base ingredients firmly into the bottom.
4. Put all topping ingredients into a food processor (including the dates and hot water) and wait for a few moments for the coconut oil to melt. Process and then spoon the topping onto the base.
5. Refrigerate for at least 1 hour.
6. Tip out gently onto a chopping board and cut into slices. Place on serving dish and garnish with extra apricots and almonds.