These delicious looking bites, from Julie Biuso's new book, Julie Biuso at Home, are great for summer entertaining. Not only do they look yummy, they tick all the health boxes. The dressing can be made in advance and the remaining ingredients cooked on the barbecue or a hot plate as your guests arrive.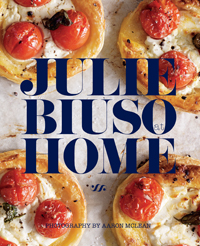 Ms Biuso has an amazing gift at creating the most sumptuous meals. An award-winning food writer, in her book Julie Biuso at Home she shares over 270 delicious meal ideas, everything from simple home baking to cocktail snacks and banquets.
At the back of the book there is a 32-page Cook's Notes section where Julie shares her extensive food knowledge and a host of useful cooking tips. The beautifully styled photographs that accompany the recipes are sure to inspire. A fabulous book to add to your cookbook collection.
Recipe extracted with permission from Julie Biuso at Home, with
photography by Aaron McLean. Published by New Holland, $65.00.
. 

Toasted pide with grilled courgettes, feta and pine nuts
SERVES 6
These are pretty scrumptious as a hefty snack with drinks, or a light lunch.
Pide
4 medium courgettes (zucchini)
2 Tbsp olive oil, plus extra for pine nuts and pide
Flaky sea salt and freshly ground black pepper
1/4 cup pine nuts
1 small sesame Turkish pide loaf
100g sheep's milk feta (or soft white goat's cheese), sliced
Dressing
2 Tbsp extra virgin olive oil
1 Tbsp white wine vinegar
1/2 tsp seed mustard
2 cloves garlic, peeled and crushed
1/2 cup mint leaves (chop just before using)
Salt
1 Trim courgettes and slice thinly lengthways. Transfer courgettes to a large bowl and toss with 2 tablespoons of olive oil. Cook in a ridged grill pan over highish heat until browned on both sides, or on a barbecue grill. Transfer to a plate and season with flaky sea salt and black pepper.
2 Toast pine nuts in a smidgin of oil in a small frying pan over low-medium heat, shaking them around the pan to encourage even browning. When golden, tip onto a plate lined with paper towels and season with a little flaky sea salt.
3 Cut pide into 3 pieces, then cut each piece in half through the middle. Brush lightly with oil and char-grill and cook as described under 'bruschetta' on page 264.
4 Mix dressing ingredients together in a small bowl, adding ¼ of a teaspoon of salt. Pile courgettes on toasted pide. Top with sliced cheese. Spoon dressing over, scatter with pine nuts and serve.