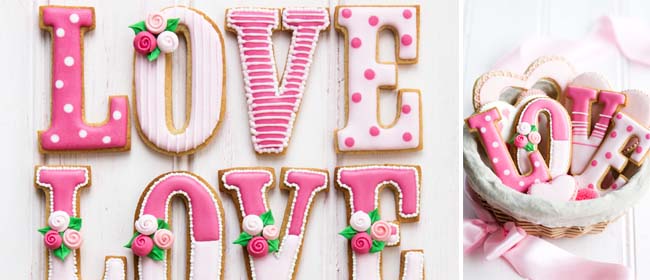 We've been doing a lot of baking this week – and a lot of eating! – because Valentine's Day is just around the corner. As well as white truffles and shrewsbury cookies, we came up with these vanilla cookies. They're not only delicious, they're perfect for experimenting with fancy icing techniques.
Vanilla cookies
125g butter (4 ½ oz), softened
125g (4 ½ oz) caster sugar
2 tablespoons milk
1 teaspoon vanilla essence
1 ½ cups plain flour
1 ½ teaspoons baking powder
½ cup custard powder
1. Preheat oven to 190°C (375°F). Grease 2 baking trays.
2. Cream butter and sugar until light and fluffy. Add milk and vanilla essence and beat until combined.
3. Add flour, baking powder and custard powder and mix into a soft dough, using hands to finish off.
4. Tip dough onto floured surface and knead until smooth, about a minute. Roll dough out 4mm-5mm thick. Cut out letters using cookie cutters. Place on greased trays.
5. Bake in oven for 15-18 minutes. Ice when cool.
Polka dot icing
To decorate your cookies with polka dots, pipe an outline of icing around the edge of the cookies first, to keep the icing from flowing over the sides.Then fill the centre immediately with the same colour icing.
If you decide to use a different colour for the filling, let the outline dry for a few minutes first.
As soon as the cookie is filled and the icing sitting flat, drop small dots of contrasting coloured icing onto the cookies.
Allow to dry. Then scoff the lot! Or package them up nicely for your Valentine.
Royal icing recipe
2 egg whites
1 teaspoon lemon juice
4 cups icing (confectioner's) sugar
In a large bowl, combine egg whites and lemon juice, then add some of the icing sugar. Mix with an electric beater until smooth. Continue adding icing sugar, a little at a time. The mixture will look like whipped cream with soft peaks when ready. Cover the bowl with plastic wrap and store in the fridge until you are ready to use it.
To make your icing runny for flooding your cookies, put a little of the icing in another bowl (or if you want to use it all, just use the same bowl) and add water, a few drops at a time, until you have a smooth, liquidy mix (not too runny). Add colouring of your choice. Cover the bowl and let sit for 30 minutes to dispel any air bubbles. Gently stir, then your icing is ready for piping.