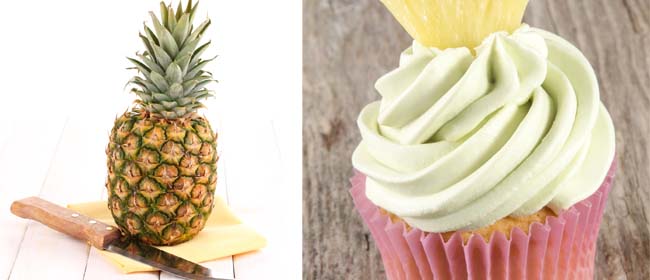 Yolanda Bonfrer whips up some tropical cupcakes reminiscent of sun-drenched holidays to while away the cooler days.
Sitting here with winter on its way, my mind reflects on past tropical holidays, sipping pina coladas on a sun lounger while reading a wonderful book. Back to reality and I realise I have pineapple left over from the homemade Hawaiian burgers I made the night before. Pineapple and coconut is such a wonderful combination, and one the kids enjoy too.
Cupcakes should be completely cooled before icing. There is, however, no harm in taste-testing these yummy cupcakes when they are still warm! They are super light and refreshing, so do give them a go.
Tropical pina colada cupcakes
Ingredients:
100g (3.5 oz) butter
150g (5.3 oz) sugar
1 ½ teaspoons lemon zest
2 medium eggs
30g (1 oz) shredded coconut
150g (5.3 oz) self-raising flour
⅓ cup pineapple juice or syrup
Icing
250g (9 oz) butter, softened
450g (16 oz) icing (confectioner's) sugar
¼ cup pineapple juice or syrup
½-1 teaspoon rum essence (optional)
To make cupcakes:

1. Preheat oven to 180 degrees C (350 degrees F). Grease 12 cupcake tins and line with paper cupcake cases.
2. Cream the butter and sugar until light and fluffy, add lemon zest and the eggs, one at a time.
3. Gently fold in the shredded coconut, half the self-raising flour and pineapple juice. When well combined, fold in the remainder of the flour and pineapple juice.
4. Spread mixture evenly between the cupcake cases and place in preheated oven.
5. Bake for 15-20 minutes or until golden in colour and the cupcakes bounce back when touched.
6. Remove from oven and allow to cool slightly before placing cupcakes on a wire rack. Cupcakes should be completely cooled before decorating with icing.
To make icing:

1. Whisk butter with electric mixer until pale and fluffy.
2. Continue to use mixer and slowly add the icing (confectioner's) sugar. Once half the icing sugar has been mixed in, begin adding the pineapple juice. Continue adding the remaining icing sugar and pineapple juice until you achieve a nice thick yet creamy consistency. Mix in rum essence if using.
3. To decorate, attach a piping tip to a piping bag (I used Ateco 829 tip). Fill piping bag with icing mixture. Starting from the centre of the cupcake, pipe the mixture in a circular movement all the way around and finish at the top.
4. Garnish with a slice of pineapple and enjoy. You could also sprinkle your cupcake with shredded coconut and add a fancy little umbrella on the side to really give it the tropical look.