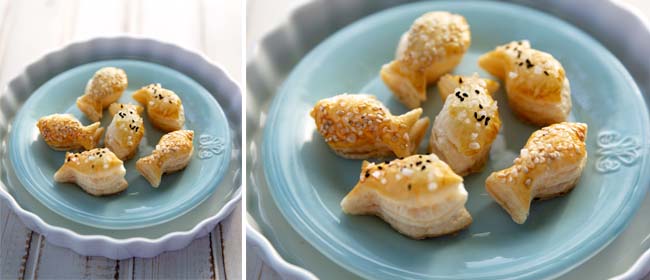 These tasty treats can be whipped up in minutes. Serve them as appetisers or party food – both kids and adults will love them.
Experiment with different fillings. Add cheese to the mix, or try different herbs and spices.
Ingredients
Ready-made puff pastry sheets, thawed
1 lightly beaten egg, to glaze
150g boneless smoked fish, flaked
¼ cup spreadable cream cheese
¼ cup heavy cream
2 tablespoons lemon juice
¼ teaspoon brown sugar
1 ½ tablespoons finely chopped parsley (or try chives or dill)
Salt and pepper, to season
Sesame seeds
Salt
Method
1. Preheat oven to 200 deg C (400 deg F). Line a baking tray with baking paper.
2. Use a fish-shaped cookie cutter to cut out several fish. Place half the fish shapes onto the baking tray and brush the edges with the beaten egg.
3. Make filling. In a medium-sized bowl, mix together smoked fish, cream cheese, cream, lemon juice, sugar and parsley. Add salt and pepper to taste.
4. Spoon filling down the centre of each fish shape on the baking tray. Place the remaining fish shapes on top of the filled fish shapes and press the edges together. Glaze the top of the pastry fish with the beaten egg and sprinkle with sesame seeds and salt.
5. Bake in oven for about 15 minutes, or until golden brown.