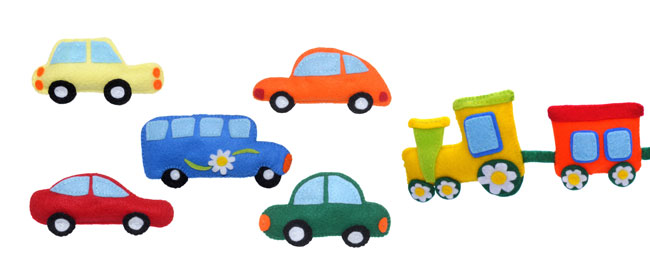 These cute felt automobiles will provide hours of fun for your youngsters and their friends.
Trains, planes and automobiles – make some fun felt toys for home play dates or for long-destination travel.
Simply cut out the shape of your car from your chosen felt colour (cut two shapes per car), then cut shapes for windows, wheels and other embellishments.
Machine or hand-sew the embellishments to one car-shaped piece of felt. If you wish the other side to match, stitch windows and wheels onto the other car-shaped piece of felt as well.
Place the two pieces of car-shaped felt with right sides together (with the back facing), and stitch around the edge, leaving an opening for stuffing.
Althernatively, you can hand-sew a blanket-stitch around the edge.
Turn the car right side out, then stuff with filler. Hand-stitch the edge closed.