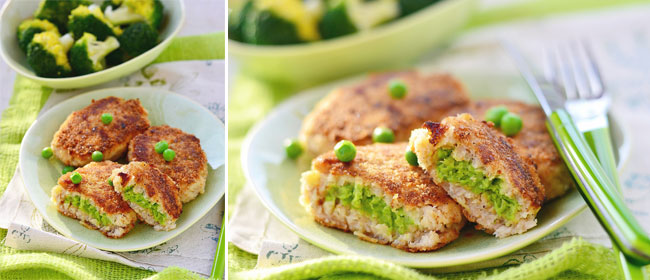 These easy-to-make croquettes are a great family-friendly meal.
Serve with salad or steamed vegetables – or crispy oven-baked chips.
Preparation Time: 18 minutes
Cooking Time: 15 minutes
Makes 8 croquettes
Ingredients
200g (7 oz) frozen (or fresh if you have them) peas
¼ teaspoon salt
1 tablespoon butter, softened
1 tablespoon milk
2 x 210g (7 oz) tins salmon (or use salmon fillets)
2 eggs, beaten
Juice of half a small lemon
2 spring onions, chopped
Salt for seasoning
¾ cup panko (Japanese breadcrumbs)
Oil for frying
1. Cook peas until tender. Drain. Add peas, salt, butter and milk to food processor and process until smooth, or nearly smooth. Set aside.
2. Combine salmon, eggs, lemon juice, spring onions, salt and half the panko.
3. Take a spoonful of the salmon mixture and roll into a ball. Flatten. Repeat until the mixture is used up.
4. Place a dollop of the pea mixture in the centre of half the salmon patties, then place another salmon patty on top.
5. Dust the patties with the remaining panko, then fry until golden brown.