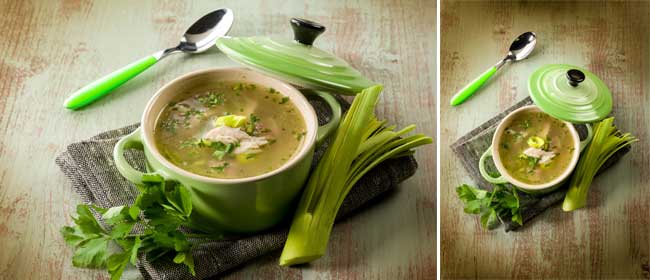 By Jane
Make Life Easy
This soup is so easy, so quick and so delicious it's become a regular in my household. Everyone loves it, including my overseas homestay students. It's based on a Donna Hay recipe, but with a few changes. I have also added pork wontons to this soup to make it go further when there are extra people at the dinner table.
If you can't find risoni (also known as orzo), you can use any other small pasta.
Chicken & Risoni Soup 
Preparation time: 8 minutes
Cooking time: 12 minutes
Serves: 4
1 tablespoon oil
1 large leek, sliced
2 skinless, boneless chicken breasts, cut into bite-sized pieces
6-8 cups salt-reduced chicken stock
¾ cup risoni (also known as orzo)
3-4 baby bok choy, bottoms cut off and leaves separated
Freshly ground black pepper
Garlic bread, to serve
Heat the oil in a large saucepan over a medium heat.
Add the leek and chicken and cook for 2 minutes.
Add the stock and risoni, bring to the boil, then reduce to a simmer and cook for 5 minutes.
Add the bok choy leaves and cook for another 2 minutes. Stir in freshly ground black pepper to taste.
Serve with garlic bread.