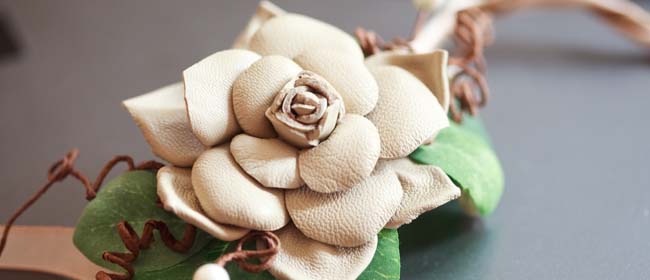 Pick up some scraps of leather from a craft store and create a gorgeous floral brooch or hair piece for a special occasion.
You need:
Scrap leather
Fabric glue
Dress maker's scissors
Brooch pin or hair pin/comb
Method:
Depending on the size of the brooch or hair piece you wish to make, cut out your petals and centre pieces to an appropriate size (large, medium or small), as pictured (right). Our largest petal, from bottom to tip, measures 5.5cm ( 2 ¼ in).
You need to cut: 6 large petals, 5 medium petals, 4 small petals, 4 rounded inner petals and 3 rectangular inner petals. If you wish, you can add a couple of green leaves to your design.
Starting with the inner petals, glue them together to form the central piece.
Next, take your small petals and pull them with your thumbs and forefingers so that the tips curve slightly under. Glue the base of the petals to the base of the central piece.
Do the same for the remaining petals, pulling them first to form natural-looking curves and glueing them to the base of the previous petals.
Cut a small circle to fit on the base of your design to cover the glued pieces, and glue in place.
Glue or stitch the brooch or hair pin in place, or use a ribbon instead to make a head band.