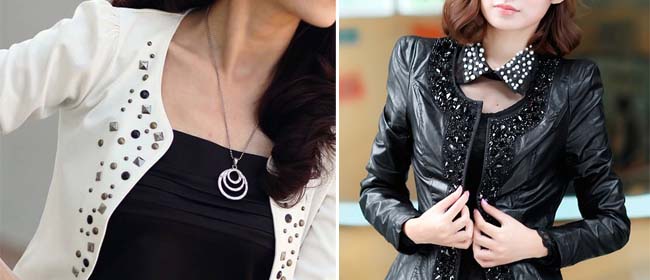 UK-based Crystals R Us are offering ALL Sweet Living readers (from NZ and around the world) the chance to win a stash of iron-on bling. They're giving away 1 fabulous box set of iron-on rhinestones, studs, sequins, nail heads, glitter stars and hearts, plus a pick-up pencil, curve tweezers and box organiser, worth more than £60.
To give you some idea what you can use them for, check out these gorgeous jackets. The collarless white blazer is adorned with square nail heads and dome studs, the black leather jacket is adorned with black rhinestuds. (Images from Crystals R Us website, via Wholesale 7). To make your own lace and stud denim jacket, check out this tutorial from Crystals R Us.
Then enter the draw for your chance to win the Crystal R Us bling box set, worth more than £60.
THE KIT CONSISTS OF:-
* 5 GROSS (720) SS10 = 2.5MM CLEAR IRON-ON RHINESTONES
* 5 GROSS (720) SS16 = 4MM CLEAR IRON-ON RHINESTONES
* 25 GRAMS OF MIX COLOURS/SIZES IRON-ON RHINESTONES
* 10 GROSS (1440) 3MM SILVER IRON-ON  STUDS
* 10 GROSS (1440) 4MM SILVER IRON-ON STUDS
* 2 PACKS (600+) MIX COLOURS/SIZES IRON-ON STUDS
* 1 PACK (100) 5MM SILVER ROUND IRON-ON NAILHEADS
* 1 PACK (100) 8MM SILVER ROUND IRON-ON NAILHEADS
* 1 PACK (100) 5MM SILVER STAR IRON-ON NAILHEADS
* 1 PACK (100) 8MM SILVER STAR IRON-ON NAILHEADS
* 2 PACKS (200+) MIX COLOURS/SIZES/SHAPES IRON-ON NAILHEADS
* 1 PACK (100) 5MM ROUND SILVER IRON-ON SEQUINS
* 1 PACK (100) 7MM ROUND SILVER IRON-ON SEQUINS
* 1 PACK (100) 9MM ROUND SILVER IRON-ON SEQUINS
* 1 PACK OF 1 INCH IRON-ON GLITTER STARS
* 1 PACK OF 15MM IRON-ON GLITTER STARS
* 1 PACK OF 1 INCH IRON-ON GLITTER HEARTS
* 1 PACK OF 15MM IRON-ON GLITTER HEARTS
* 1 CRYSTALSRUS PICK UP PENCIL – (not iron-on)
* 1 CURVE TWEEZER – (not iron-on)
* 1 ORGANIZER BOX CASE – (not iron-on)
GRAND PRIZE-WINNER:
Bronwyn Carroll of Tauranga, New Zealand
RUNNER-UP PRIZES:
(Runners-up each win a prize consisting of a selection of iron-on rhinestones in clear, blue and red.)
Lesley Lazarides of Wellington, NZ (comment 3)
Eleonora (comment 6)
Emma (comment 26)