Fi Jamieson-Folland makes a delicious, high-protein, chocolate drink that's actually good for you.
Protein is a vital nutrient for the human body. It helps our cells work at their best, and it's used to build healthy tissues such as muscle and bone. The amount we actually need varies with our age. Children up to teens need 10g a day, teens need between 46g and 52g a day, and adults need between 46g and 55g a day. If you're pregnant or breast feeding, this goes up to 71g a day.
Meat and fish are often thought of as the ideal protein sources, but meat can come with saturated fats, and fish with unwanted extras, such as mercury. In contrast, protein-rich nuts and seeds are a great source of fibre and the right kinds of fats, plus they're packed with minerals and plant-based phytochemicals that have been linked to lower cardiovascular disease and cancer risk.
So how to make use of nuts' goodness? Try this yummy, winter-warming drink that's both high in protein and good for you.
Why? For a delicious winter-warming lift. Ideal for those days you need some energy but also want something tasty – and healthy.
When? Warmed as a mid-morning or afternoon drink. (Remember to heat your milk slowly and not to boiling point. High heat can alter the availability of the proteins, fats, vitamins and phytochemicals in the ingredients.) Or have cold with your breakfast cereal. It's also a useful addition to recipes needing milk.
Nutolicious Hot Chocolate
What you will need: 
Makes enough for a big mug of hot chocolate (350ml)
350ml Neat Nut Milk* (almond is a great one for this recipe)
1-2 tablespoons raw cacao powder, to taste
½-1 tablespoons raw agave or honey, or more to taste
Cinnamon, to sprinkle, to taste
Method:
1. Combine all ingredients in a blender. If you're using a 'Vitamix' blender, you can simply keep on blending to heat your choc milk to 41deg C (105deg F).
2. Transfer to a pan on the stove to gently heat – although do be super careful. Use a candy thermometer, and remove from the heat at about 35 degrees – as it will keep heating after the heat source is removed.

* Neat Nut Milk – Almond
2-3 cups (500-750ml) filtered water
1 cup almonds, pre-soaked in filtered water overnight, drained just before use
2 organic medjool dates, stones removed, pre-soaked in filtered water overnight
1. Place the almonds in the blender with half the filtered water. Blend for several minutes until smooth, then add the medjool dates, plus their soaking-water.
2. Gradually add more water to create a thicker or thinner milk, according to your preference.
3. For a sweeter milk, slowly add in 1-2 teaspoons raw agave or honey whilst the blender is going. An optional extra is 1/3 teaspoon vanilla extract.

Top tips for your perfect Nutolicious Chocolate Milk
• You can sprinkle your Nutolicious Milk with raw cacao, cacao nibs, carob powder, bee pollen or dehydrated coconut pieces (all available from most good health food shops).
• Your Neat Nut Milk is super versatile. You can make it with a base of whichever nut or seed you prefer – from brazil nuts to sunflower or pumpkin seeds. Our favourites are hazelnut and almond milks.
• Drink it as a low GI snack (low glycaemic index – so the energy is slow-release), or after a work-out.
• Include organic where possible. If that's not possible, use extra soaking time if you can, and rinse well.
• When blending solids and more dense ingredients, blend on a high speed for longer than you think is necessary, to ensure smooth results.
• Chew! Yes – even milk! This mixes your digestive juices and helps to begin digestion before your food reaches your stomach.
• Pop any leftovers in a sealed BPA-free container in the fridge and finish the same day, or place in freezer to store for a maximum of 3 months or so.

Bonus Take Away:
If you'd like the recipe for the Power Boost – a green smoothie packed with protein – then email me direct at: fi@fijamiesonfolland.com for your copy. Remember to put 'Power Boost' in the subject line. Perfect after your walk, or your work-out!

Read more of Fi's articles:
The secret to a strong immune system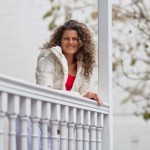 Fi Jamieson-Folland D.O. is a Lifestyle Consultant with over 20 years' experience as a qualified osteopath, educator, writer and health mentor in Europe, Asia and New Zealand. She lives in Auckland with her husband, Chris, relishing an outdoor lifestyle and time with family and friends.