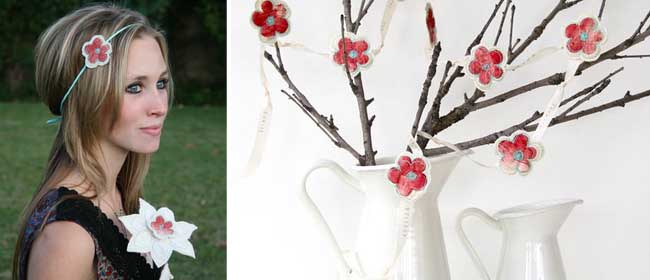 Ever tried your hand at free motion stitching? It's a technique that's carried out by disengaging the sewing machine feed dog. When the feed dog is engaged, it guides the fabric toward the machine. When disengaged, or lowered, it's possible to stitch in any direction. To help control the fabric, a special free motion or darning presser foot is used in place of your normal one.
Free motion stitching generally needs a bit of practice, but you can create wonderful free-form embroidery (this short video gives you an idea of how free motion stitching is done). Cynthia Shaffer has used it here to sew these lovely fabric flowers which she's used to make a headband, a cherry blossom garland and a single bloom for a bud vase. See close-up pictures here.
There is no tutorial for these, but Cynthia has provided one for another floral headband which uses the same technique. Check that tutorial out here.