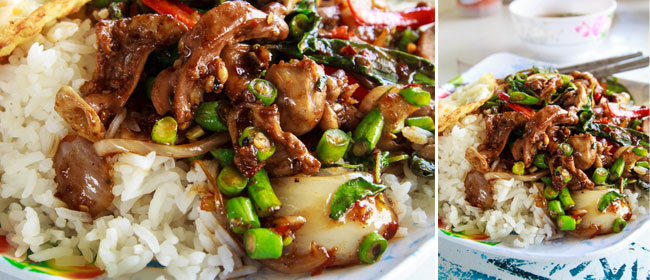 By Jane
Make Life Easy
I'm all for quick and easy, tasty meals, and this is one of them. Super quick to prepare and chock-full of tastebud delights.
If you cannot find holy basil, use sweet basil instead, although you won't get the same peppery taste that holy basil imparts. You can also serve this dish with a fried egg, as in the traditional dish, pad ga-prao gail, of Thailand.
Preparation time: 12 minutes
Cooking time: 12 minutes
Serves 4
Ingredients
3 tablespoons vegetable oil
6 cloves garlic, finely chopped
2 Thai chillies, sliced and deseeded
2 large onions, sliced thickly
½ cup chopped green beans
450g (1 lb) chicken breasts, cut into bite-sized pieces
2 tablespoons oyster sauce
3 teaspoons soy sauce
2 teaspoons water
2 teaspoons brown sugar
3 spring (green) onions, chopped
1 large bunch Thai holy basil, leaves removed from stems
Rice, for serving
4 fried eggs, for serving (optional)
Method
1. Put rice on to cook.
2. While rice is cooking, heat oil in frying pan or wok on medium-high, add garlic and chillies and cook for 20-30 seconds. Be careful not to burn them.
3. Add onions, chopped beans and chicken and stir-fry for 4-5 minutes, or until chicken is cooked through.
4. Add oyster sauce, soy sauce, water, sugar and spring (green) onions. Cook for 1 minute, or until heated through.
5. Turn off heat, and mix through holy basil. Fry eggs, then serve with rice.