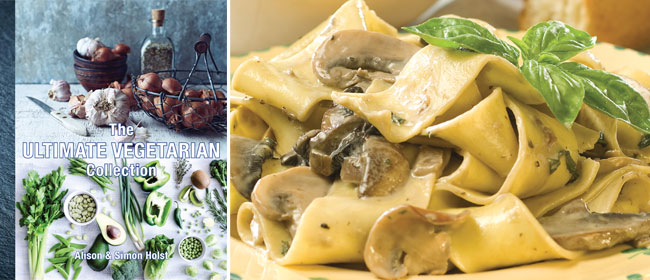 This delicious vegetarian meal comes from The Ultimate Vegetarian Collection by Alison & Simon Holst.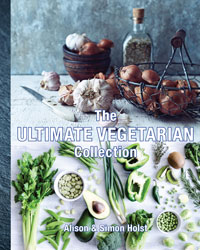 With meals for breakfast, lunch and dinner, and those in between, this new book from Alison and Simon Holst is an inspiring collection of more than 400 recipes. Whether you are eating indoors or out, entertaining friends or creating a special dish for two people, this book has it covered.
The Ultimate Vegetarian Collection features the Holsts' best recipes from their books Meals Without Meat (which was reprinted more than 10 times), Meals Without Red Meat and Very Easy Vegetarian, as well as recipes from their magazine and newspaper columns. It sticks to the same formula as Meals Without Meat – the recipes are reasonably simple, affordable and use only ingredients you will largely be able to find at your local supermarket.
A must for vegetarians and non-vegetarians alike.
Recipe extracted with permission from The Ultimate Vegetarian Collection by Alison Holst and Simon Holst, published by New Holland, $49.99.

Pappardelle with Rich Mushroom Sauce
Serves 3–4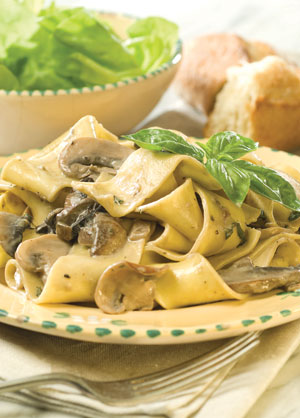 Pappardelle is a really wide long pasta (like fettuccine, but 2–3 times as wide). Make your own pasta and cut it into strips about 2cm wide, or buy fresh lasagne sheets and cut them the same way.
2 tablespoons olive oil
1 small onion, finely diced
2 cloves garlic, crushed and chopped
200g (7oz) portobello mushrooms
200g (7oz) button mushrooms
60ml (2fl oz) medium or dry sherry
1 tablespoon chopped fresh basil, plus
extra to garnish
1 teaspoon chopped fresh thyme
125ml (4fl oz) cream
½–1 teaspoon salt
freshly ground black pepper, to taste
2 teaspoons truffle- or porcini-infused oil (optional)
400g (14oz) pappardelle
Heat the oil in a large frying pan. Add the finely chopped onion and garlic and cook, stirring frequently, over a medium heat until the onion has softened.
While the onion cooks, cut the mushrooms into slices about 5mm (0.2in) thick, then gently stir them into the pan. Continue to cook, stirring occasionally, until the mushrooms soften, then add the sherry and herbs.
Toss to mix, then when the sherry has mostly evaporated, stir in the cream.
Allow the sauce to boil, then reduce to a gentle simmer and cook for 3–5 minutes longer before seasoning to taste with salt and pepper and adding the infused oil (if using). Keep the sauce warm while you cook the pasta.
Bring a large saucepan of lightly salted water to a rapid boil. Add the pasta and cook uncovered for 3–5 minutes (depending on how thin you rolled the pasta). Drain the cooked pasta, then return it to the saucepan.
Sprinkle it with a little extra olive oil, then add the sauce and stir gently until it is evenly distributed through the pasta.
Serve immediately garnished with a little extra basil, and with crusty bread and a green salad on the side.
More from The Ultimate Vegetarian Collection: