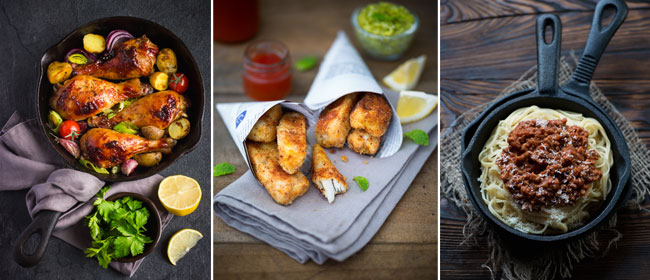 What if your weeknight meal prep WASN'T just a daily chore? 
What if it actually felt… easy?
Break out of the recipe rut with our 6-week Meal Plan + Shopping Lists.
Raising a family, juggling work, running a household and trying to find time for yourself and your partner – it's a never-ending struggle. Then there's dinner to prepare.  EVERY. SINGLE. NIGHT.  You don't have time to think, let alone make dinner!
Time out! We're here to help.
Sign up for our Weeknight Meal Plan + Shopping Lists and you'll get:
Time-saving, delicious meal plans and recipes for 6 WEEKS!
A weekly shopping list for each week's menu.
Access to our members-only Facebook group where you can share recipes and tips, and hang out with like-minded people.
Your sanity back!
(Even if you're a self-proclaimed "lousy cook".)
Never worry about having to think up the perfect weeknight meal EVER again!
The very first recipe I cooked – the Sausage Parcels – the sausages turned out great and me and 3 teenagers loved them! – Ngaire
We've got EXACTLY what you need to streamline your weeknight dinner prep:
Smart strategies
Genius shortcuts
Menus + shopping lists to simplify your weeknight meals.
PLUS…
As a limited-time, special bonus,
we'll also give you 3 ebooks for free:
1000 Gluten-Free Recipes (normally $25)
470 Crock Pot Recipes (normally $10)
The Ultimate Bread Machine Cookbook (normally $10)
That's 6 weeks' worth of menus + recipes + shopping lists, plus 3 bonus ebooks for a special limited time-only price.
This bundle would normally retail for $92.
But for a LIMITED TIME ONLY, you can get this entire bundle for just…
$92 
$27!!
Hurry! This price won't last long.
Click below for your start to getting your sanity back.