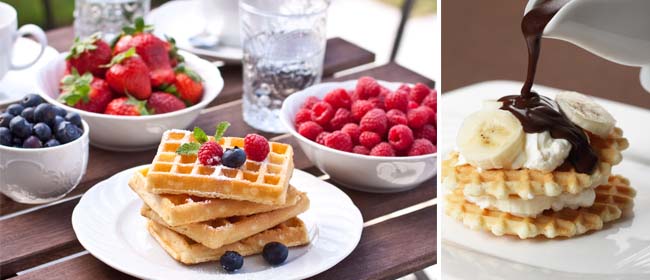 Treat yourself, or the family, to a special breakfast of waffles. We indulged in these yummy waffles on Sunday morning, and they were a huge success. We may have to double the recipe next time so there will be extra left over to enjoy as a desert – with ice cream!
This great  little recipe contains no sugar so you can almost, bar the addition of butter, claim that it is a healthy breakfast. Almost. Drizzle with honey and fresh fruit or be thoroughly wicked and add whipped cream and lashings of maple syrup. For best results the mixture needs to stand for 1 hour, perfect timing for a brisk walk to build up your appetite. Makes approximately 8 waffles.
Breakfast waffles
Ingredients:
225g (8oz) flour, sifted
1/2 teaspoon salt
75g (1/3 cup) butter, melted
300ml (1 1/4 cups or 10 fl oz) milk
2 medium sized eggs

To make:
1. Add flour and salt to mixing bowl.
2. Combine melted butter and milk, then slowly pour this into the flour and whisk till smooth.
3. Add the eggs, one at a time, to form a smooth, runny batter. Let the mixture stand for 1 hour.
4. Pour into hot waffle maker and cook till golden. If using a cast iron waffle maker, take care to season it first to stop the waffles from sticking to the pan. Serve with your favourite topping.
Serving suggestions:
There are so many ways to enjoy these waffles. Try dusting them with icing sugar and serve with fresh fruit, or top with bananas and whipped cream and drizzle with chocolate sauce.
Anyone's mouth watering?