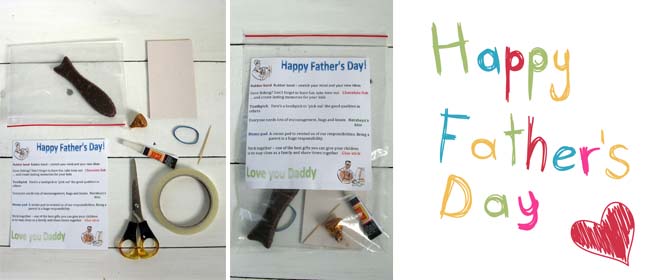 Father's Day is fast approaching for those living in the UK and the States. In fact, it's this Sunday 2nd June, 2013 (Australia and New Zealand's Father's Day is on 1st September 2013).
We have this great little project that kids can do as a Father's Day gift, with some thoughtful texts to remind Dad of the important things in life.
Items you need:
Ziplock bag
Print-out of Father's Day text kit – click here for printout
Scissors
Sticky tape
Rubber band
Chocolate fish
Toothpick
Hershey's Kiss
Memo pad
Glue stick
Firstly, print out the Father's Day text and cut it to size to fit onto the front of a ziplock bag.
Depending on the age of the child, they may need help with this, though it can add to the 'home made' effect to see a jagged little piece painstakingly cut out by your little one. They may also like to add their name at the bottom, just after 'I Love you Daddy'.
Using the sticky tape, attach the text to the ziplock bag. Place the rest of the items into the bag and you're done. Super easy and made with love.