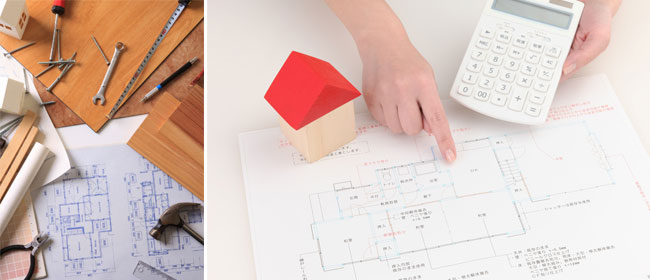 Are you thinking of undertaking a major renovation? You might want to read this first. We've listed some handy things to think about before taking the plunge.
You might be renovating in preparation to sell. Or you might want a few new rooms to spread out in. Or you might just want to update what you've already got. Whatever your reason for renovation, figuring out what you want, your scope and your budget are three of the most important things you need to consider before you take the plunge. Here are some more things to consider before you start putting plans on paper.
Avoid major do-it-yourself projects where possible
Even though DIY is a great money-saving option, try to avoid the temptation to do some or all of the work yourself. Even if you're a handyman, this can easily backfire and leave you with more problems than you began with. Trying to undo any mishaps will waste valuable renovation funds. Also, the quality of workmanship is an important factor for most buyers and an inferior job will diminish your sale price. If you do decide to do it yourself, make sure you have the proper expertise, the right amount of time and the right tools for the job. To save you from having to buy tools, you can always hire from a construction specialist like Mabey Hire. This is a simple way to ensure the equipment you're using to renovate is high quality and correct for the application.
Research your contractors
When choosing your builders and architects, make sure you do your research. Compile a shortlist of contractors to interview. Think of suitable questions that you really want to ask. Spend time reviewing their work practices and previous experience. Look at photos, talk to previous clients and base your opinion on who you think is best equipped to do your specific job.
Assessing your lifestyle
How do I like to live? That's perhaps the most important question to ask yourself when you're considering your renovations. Are you retiring soon or about to have more children around? Do you have a passion for entertaining and require a better area for leisure and entertainment? Do you need a bigger garage or a gym room? Do you hate cleaning or want less noise? Your lifestyle will play a big part in the sort of renovations you undertake, not only with the layout but also colours and furnishings.
Plan your budget wisely
If you're planning to renovate, especially if it's to increase sale price, plan your course of action sensibly. Quality kitchen and bathrooms along with great storage will not only add value to your family or investment home but will give your home the wow factor. According to experienced renovating gurus, 5% of your home's value should be in your kitchen and 1% in your bathroom. Quality tapware, cabinets and storage will help your home be the envy of neighbours.
Go green
Buyers are looking for houses that are energy efficient that will contribute to reducing greenhouse gas emissions. Solar hot water systems, rainwater tanks, insulation and grey water irrigation systems are great to think about while you're renovating. It's also best to think about these elements from the design stage so they can be incorporated into the design seamlessly.
Careful planning and lots of research will help your renovation give you the home you've always dreamed of. Don't rush into any decisions. Take your time and you will get the results you are after.