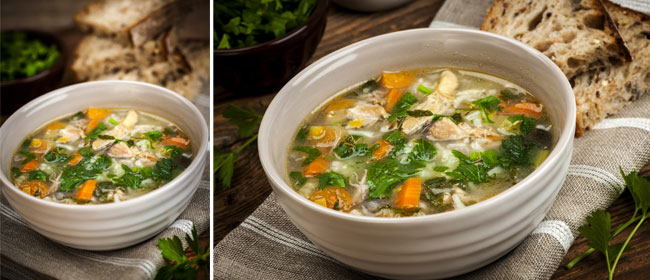 Keep colds and the flu at bay with this delicious, nutritious soup.
Feeling run down? Make yourself and your family a nutritious soup that's chock full of immune-boosting ingredients.
Serves 4
Ingredients
1 tablespoons coconut oil
1 small onion, chopped
1 carrot, chopped
1 celery stem
2 cups cubed pumpkin
1 teaspoon minced garlic (about 3 cloves)
1 ½ teaspoons minced ginger
4 cups chicken stock
1 ½ cups shredded cabbage
250g mushrooms, sliced
4-6 chicken pieces (drumsticks, thighs, etc)
½ – 1 teaspoon turmeric
1 piece dried kombu seaweed
Coriander (cilantro) for serving
1. In a large saucepan or stock pot, melt coconut oil over medium heat and sauté onions, carrots, celery and pumpkin until the onions are soft.
2. Add garlic and ginger and cook for another minute.
3. Add remaining ingredients to the pot, except for coriander, cover and bring to a boil.
4. Reduce the heat to low and simmer for 30 minutes, or until the chicken is cooked.
5. Scoop out chicken. Let cool slightly so it is easier to remove meat from bones. Shred chicken and place in bowls. Top with soup, and fresh coriander.