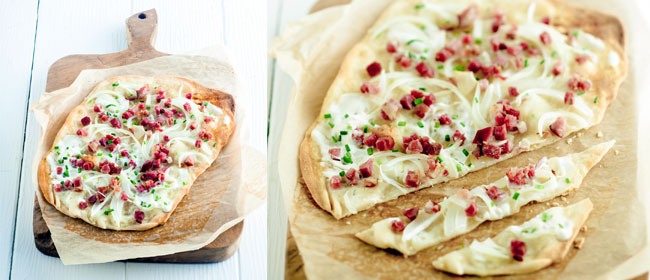 By Jane
Make Life Easy
Who loves pizza? As long as it has lots of garlic, I'm in. But tarte flambée is something different – no garlic, no tomato and no stringy cheese. It's an Alsatian speciality with crème fraîche, bacon and onions. It's truly delicious – at least, I think so – and makes a great lunch choice, or dinner served with salad.
I made my pizza dough in the bread maker. If you don't have a bread maker, you can make yours by hand or use a readymade store-bought pizza base (though a freshly made pizza base is best).
Makes 2 large pizzas.
Tarte Flambée
Pizza dough
200ml water
1 tablespoon olive oil
1 teaspoon salt
2 ½ cups bread flour
1 ¾ teaspoons active dried yeast
Topping
2 tablespoons vegetable oil for frying
200g diced bacon
2 large onions, thinly sliced
150g pot crème fraîche
Freshly ground pepper, for seasoning
Freshly grated nutmeg, for seasoning
Chopped chives for sprinkling on top (optional)
Method 
Make the dough in your bread maker according to the manufacturer's instructions. Alternatively, make by hand, or use readymade pizza bases.
When the dough is ready, preheat your oven to 240deg C (460deg F).
Heat oil in a medium-sized frying pan over a medium heat. Add diced bacon and sauté for 2-3 minutes, or until cooked. Remove from pan with a slotted spoon and place on paper towels to drain.
Add onions to the frying pan and sauté until soft, 3-5 minutes.
Divide dough in half and roll out. You can roll it thin or thick, according to your preference. Place on baking trays.
Spread pizza bases with crème fraîche. Place onions on top, then diced bacon. Add freshly ground black pepper and grated nutmeg to taste.
Place in oven and bake for 15-20 minutes, or until the crust is golden. Remove from oven and sprinkle over chopped chives (optional).