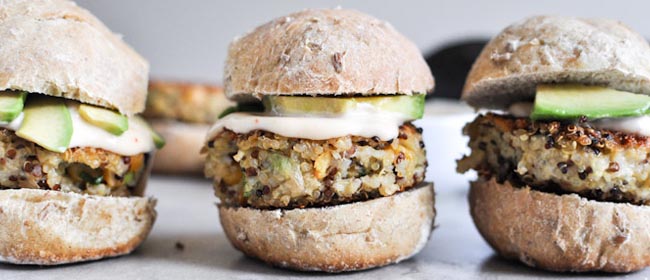 Quinoa seems to be the hippest food right now. In fact, the Food and Agricultural Organization of the United Nations (FAO) has officially declared that the year 2013 be recognised as The International Year of Quinoa. That's because quinoa is incredibly nutritional, plus it has a diverse array of antioxidants and anti-inflammatory phytonutrients. It also contains small amounts of the omega-3 fatty acid alpha-linolenic acid (ALA).
All the more reason why these delicious burgers from How Sweet It Is should be scoffed in one sitting. Their creator Jessica, who admits she has an obsession with quinoa, says of the burgers, "The outside is so crunchy and golden and the insides are soft."
We don't need any more convincing. Head over to How Sweet It Is for the recipe.