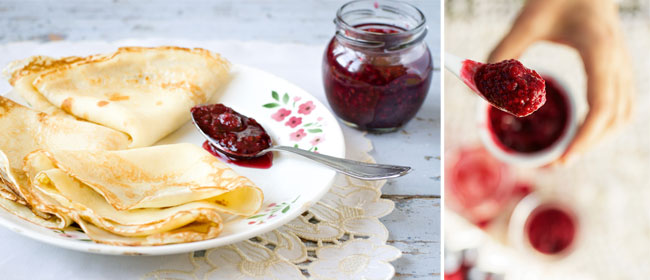 Editor Jane Wrigglesworth whips up a sugar-free jam that takes just 5 minutes to prepare.
This jam is so delicious, you can use it on just about anything – on top of ice cream, in pancakes, on oat cookies or scones, etc. And it couldn't be simpler to make. It has no sugar, which means it's won't last for weeks or months like traditional jam, but because it can be prepared in minutes, it can easily be made fresh whenever it's needed.
How to grow your own raspberries
Ingredients
1 cup frozen raspberries (or berry of your choice)
Juice ½ small lemon
Pinch salt
½ teaspoon raw stevia (raw green powder)
2 tablespoons chia seeds
Combine frozen raspberries, lemon juice, salt and stevia in a small saucepan and heat over low heat (1-2 minutes). Remove from heat and mash berries with a fork and stir until broken down to a consistency you're happy with. Taste, add additional stevia if you prefer it sweeter. Add chia seeds and mix well. Pour into a jam jar or container and refrigerate for 1 hour to set.