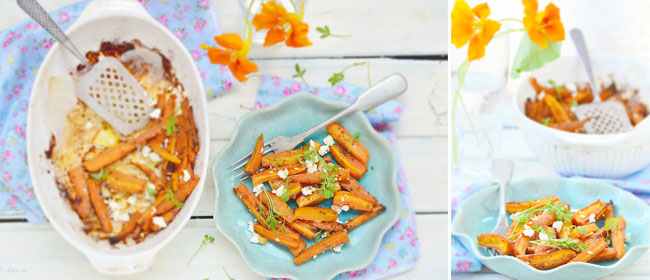 Serve this as an appetiser, or as an accompaniment to a main meal.
The sweetness of the carrots and honey in this recipe combines well with the tang of feta and lemon juice – and the cumin gives it a little extra spice. You can replace the cumin with a different spice if you prefer, or leave it out altogether.
Ingredients:
700g (1 ½ pounds) carrots, peeled and cut into long wedges
2 tablespoons sesame oil
1 ½ teaspoons runny honey
½ teaspoon ground cumin
Salt and freshly ground black pepper
2 tablespoons fresh lemon juice
50g (2 ounces) feta
Flat leaf parsley (or herb of choice), to sprinkle on top
Method:
1. Preheat oven to 200deg C (400deg F).
2. In a large bowl, toss carrots, sesame oil, honey, cumin and salt and pepper until the carrots are well coated.
3. Place in an oiled or foil-lined baking dish, place in oven and bake for 25-30 minutes, or until tender.
4. Remove from oven and place in heat-proof bowl. Sprinkle over lemon juice then stir gently to mix in. Let sit until carrots cool to room temperature. When cool, toss in chopped feta and serve with sprigs of parsley on top.