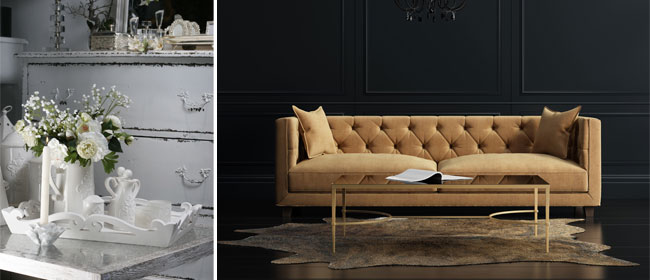 Sometimes we get tired looking at the same four walls and we yearn for a fresh new look for our home. However, getting inspired can be difficult with the overwhelming number of magazines and lifestyle shows throwing out so many different ideas and suggestions. Don't fret. For some quick and easy make-over tips, keep reading!
A simple clean
Wait! Don't roll your eyes and storm off in a huff; a simple deep clean can transform a room from shabby to sublime in just a few short hours – and you can always hire a cleaner to come in and do the work for you (while you take the credit, of course). Dust automatically dulls the sheen of surfaces and deadens colours, so whip out the feather-duster and get cracking! You won't recognise the old place after a few hours of cleaning and polishing – don't forget those cobwebs in the corners!
A lick of paint
This doesn't have to involve completely repainting the entire sitting room. A simple technique is to designate one wall as a feature and just paint it in a contrasting colour to the rest of the room. Got a white room? Then paint one wall red, or blue – or whatever colour takes your fancy. By only painting one wall, you also reduce the amount of preparation time and general upheaval that's generated by bigger painting jobs. The effect is stunning and again, if you don't like the idea of doing the work yourself, you can always get a professional painter in to do the work for you.
De-clutter
While there's nothing wrong with displaying that huge collection of china knick-knacks, we do often get caught up with our hobbies and become obsessed without realising it. One day you have a delightful crystal dolphin and the next you've got a dozen, or two dozen, and you're running out of room. Rather than having 15 porcelain dogs scattered around the room, think about which ones really stand out and give them pride of place – or have the entire collection on a rotating basis, with a small display of a select few objects which you change on a weekly basis. Another option is to store some belongings with a company such as Your Local Movers, which offers a range of temporary and permanent storage solutions.
Fresh flowers
Nothing subtly whispers 'class' better than an elegant vase of freshly cut flowers or potted flowers, and the gorgeous scent will lift your spirits every time you enter the room. You can get enormous pleasure from growing the blooms yourself or you can visit the local florist for a discussion on latest seasonal blossoms. Another great trick is to order a bouquet online and then forget all about it – when the flowers are delivered, it's a wonderful surprise. Plus you'll be able to see the neighbours' curtains literally twitching with envy.
What are your tips for styling up a tired room? What do you think is the quickest and easiest way to make a difference? Share your secrets below.