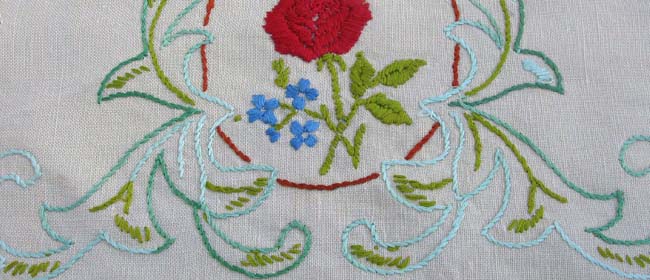 Although a basic stitch, stem stitch makes a very decorative line stitch, as seen here on the embroidered leaf outlines above.
Stem stitch is often used to create outlines, but it's also used to embroider stems, vines and tendrils. It's great for curves or straight lines, and can be worked in a single line or a band.
The thread and how many strands you use will determine how delicate the stitch is – either thick, like a rope, or thin. But for this stitch you need to use an S-twisted thread as opposed to a Z-twisted thread. With Z-twisted thread you get a vastly different look.
DMC, Anchor and other cotton embroidery flosses, as well as perle cottons, are S-twisted. Many silk threads are S-twisted too, but some, like Soie de Paris, are Z-twisted. Make sure you choose an S-twisted thread.
Refer to the diagram to master stem stitch.