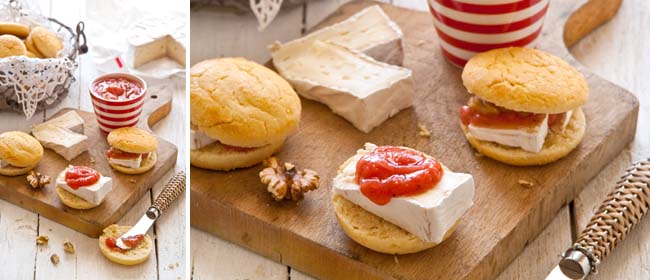 Whether sweet or savoury, there is nothing quite like fresh scones straight from the oven. Serve these savoury scones with piping hot soup or thick slabs of brie and rhubarb chutney. We love Diane MacCleod's rhubarb chutney, which featured in Issue 2 of Sweet Living (see recipe below).
Savoury Scones
2 cups self-raising flour
¼ teaspoon salt
25g butter
¾ cup milk
1 small onion, finely chopped
1 cup grated carrot
½ cup grated cheese
100g ham, chopped
1. Preheat oven to 190degC.
2. Place flour and salt into a large mixing bowl and rub butter into flour until it resembles fine breadcrumbs.
3. Add remaining ingredients and mix together quickly to form a dough.
3. Turn out onto a floured bench and knead a few times.
4. Divide dough into 10 pieces, roll into balls and press to form 2cm high circles.
 Place on greased baking tray and bake for 10 minutes or until golden brown.

Diane Macleod's Rhubarb Chutney
1kg rhubarb, cut into 2cm pieces
3 onions, finely chopped
2 cups sugar
180ml vinegar
2 teaspoons curry powder
1 teaspoon salt
¼ teaspoon pepper
Put all ingredients into a saucepan, bring to the boil and cook for 45 minutes. Bottle in sterilised jars. Makes about 1 litre.