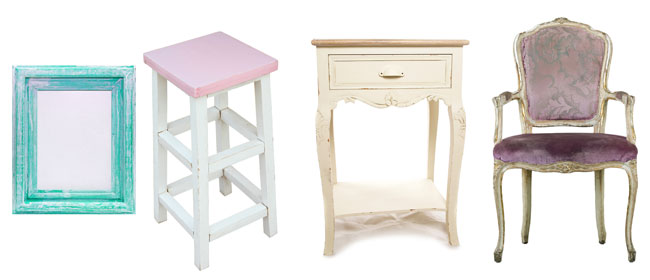 Give an old, worn or second-hand side table a shabby chic makeover. 
Has your furniture seen better days? Give it the essence of shabby chic style. Chairs, stools, tables and picture frames all lend themselves to this look.
For our project, we used a side table. It had scratches and watermarks all over it, so a quick sand and a few coats of paint has seen it reborn.
Materials:
Old wooden side table
Resene Smooth Surface Sealer (see note)
Resene Lumbersider in Blue Seal and Alabaster
Resene Aquaclear Satin
Sanding block
Paintbrush
Note: The primer you use will depend on the table's finished surface. If it's already varnished, like this one was, use Resene Smooth Surface Sealer. If not, use Resene Quick Dry Waterborne Primer.
Step 1
Remove any hardware, then lightly sand the table. Brush or vacuum off the dust, then wipe with a slightly damp cloth. Allow to dry.
Step 2
Apply one coat of Resene Smooth Surface Sealer, brushing with the grain of the wood. Allow to dry.
Step 3
Apply two coats of Resene Blue Seal. You can use a different colour here according to your preferences. A darker or considerably lighter colour than your topcoat will show best results. Allow to dry.
Step 4
Apply one coat of Resene Alabasta. You can paint this on lightly if you want more of the undercoat to show, or more heavily if you prefer only a little to show. Allow to dry.
Step 5
Using a sanding block, rub the paint in the direction of the grain to remove some of the topcoat, providing a distressed look. Wipe away dust, then apply two coats of Resene Aquaclear to seal.