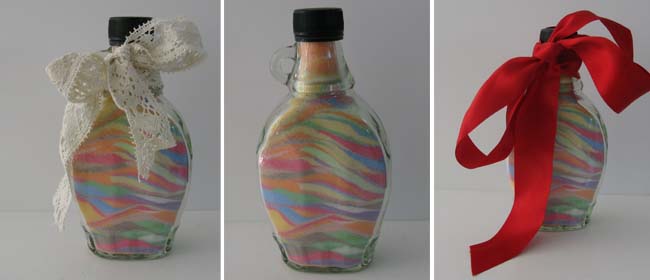 Shira Michaeli shares a fun craft that's great for both adults and kids.
With Christmas and the school holidays looming, here's a fantastic idea that is sure to get your creative juices flowing. These bottles are cost-effective and extremely easy to make. They make a great handmade gift and provide a couple of hours of distraction for the kids.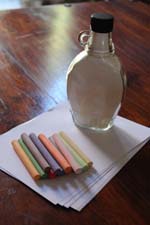 What you need:
Clear glass/plastic bottle with a lid – spice and maple syrup bottles work well
Table salt – enough to fill the bottle
Coloured chalk
Funnel
Spoon
Paper
Make sure your container is clean and dry – both inside and out ­– with all labels removed.
Fill container with salt to get quantity of salt required.
Place sheets of paper on table; one sheet for every colour you are using.
Pour out the salt in equal(ish) quantities onto each sheet of paper.
Rub one colour of chalk over the salt of one mound until each grain of salt is coloured the same as the chalk.
Move on to the next salt mound with a different colour, and continue until each salt mound it coloured… (I like to keep some salt white as it makes a nice contrast.)
Using the funnel and spoon, slowly add the salt into the bottle, trying to make different sized hills and slopes. Keep going until all your salt is used up and you have an amazing rainbow of salt.