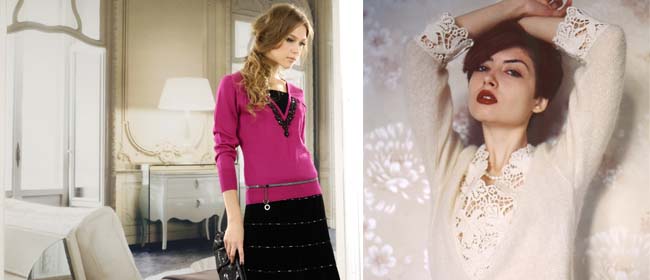 Make an ordinary garment look magnificent by embellishing it with lace or jewels. Here are two fantastic ways to revamp your clothes. It's a great little project for when you're not quite ready to part with an old favourite.
We all have that one item of clothing that we love because of its colour or it reminds us of a special time in our lives, but if looked at closely you might see that it's starting to look a bit dated.
No need to dispose of it just yet. It may simply need that little something to liven it up. Like fine lace or jewellery.
You can source some antique lace or jewellery at a thrift store, an emporium store or a dollar shop and experiment with different looks.
For example, you can apply a jewelled necklace right up and around the collar area, or you can attach it to only the bottom half of the V-neck, as shown above.
Glue on the jewellery or hand-stitch it with matching coloured embroidery thread.
Depending on the finished edge of your lace, you can sew it either on the top side of the garment or the underside. If you have a plunging neckline you may want to add a lace insert as well.
Have fun experimenting. And remember, we'd love to see your finished projects.