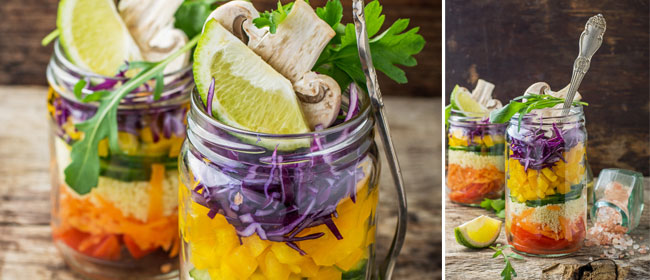 Going on a picnic? Pack your salads in jars for easy transport.
Kids love this idea – their very own salad in a jar. It's great for picnics and office lunches. Best of all? Nothing gets soggy.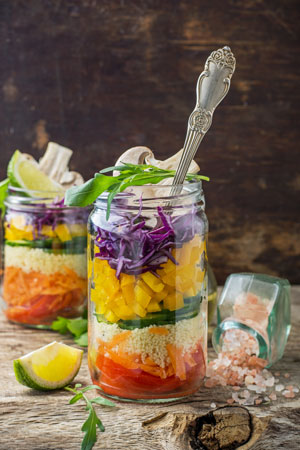 Pour your favourite salad dressing into the bottom of the jar, then stack your salad ingredients on top. Screw on the lid and it's ready to go.
When it comes to eating your salad, tip it out into a bowl – and voila! Your salad is ready to eat.
Place the heavier, non-absorbing ingredients, like chopped capsicums (bell peppers), at the bottom of the jar so they don't absorb all the salad dressing.
Then add layers of salad ingredients, placing the lightest ingredients, like leafy greens, at the top.
You can use anything you like. Our salad has red capsicum, carrot, couscous, cucumber, yellow capsicum, red cabbage, mushrooms and rocket.
Making salads for office lunches? Make 2-3 at a time and store them in the fridge. They keep well and are ready to go.