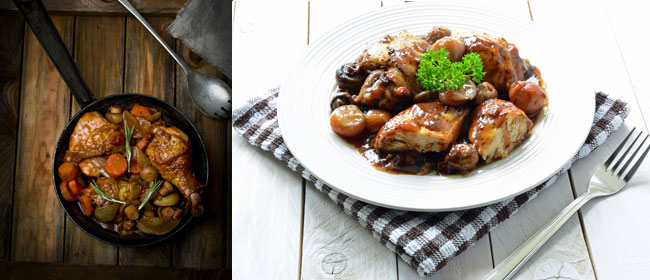 This classic French casserole delivers fall-off-the-bone chicken in a rich, mushroom sauce.
We've cut down the cooking time for this classic recipe, but the dish still has a rich, deep flavour. It freezes well too, so you can make an extra batch to freeze for later.
Serves 4
Quick and easy coq au vin
2 tablespoons olive oil
8 chicken thighs, skin removed
2 rashers bacon, chopped
250g small button mushrooms
6 shallots, peeled and cut in half
250ml chicken stock
300ml red wine
3 tablespoons brandy
2 tablespoons tomato paste
2 medium carrots, chopped
2 dried bay leaves
Fresh herbs, to serve
1. Heat oil in a large frypan and fry chicken 3-4 minutes each side. Remove from the pan and set aside.
2. Add chopped bacon, mushrooms and shallots to frypan and saute for 3 minutes.
3. Return chicken to the pan, add stock, wine, brandy, tomato paste, carrots and bay leaves, stir well, then cover and simmer for 15 minutes.
4. Remove lid and cook for another 10 minutes. Remove bay leaves, and serve with mashed potatoes. Sprinkle over fresh herbs.