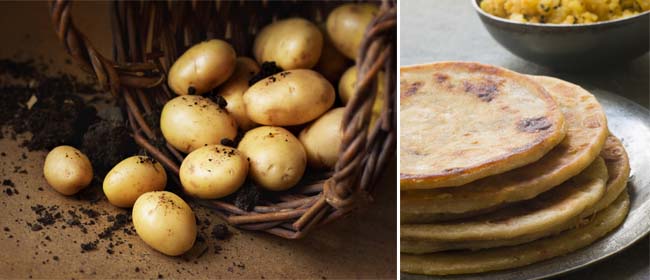 This is a simple version of parathas, an Indian flat bread served with many meals. Try it alongside our lamb and spinach dish for a complete and satisfying meal.
Parathas with potato filling
Ingredients:
1 cup wholemeal flour
1 cup plain flour
½ teaspoon salt
100ml (3.5 fl oz) canola oil
½ cup water
100ml (3.5 fl oz) canola oil (extra)
Filling:
300g (10.5 oz) chopped potato
125g (4.4 oz) chopped kumara (sweet potato)
1 teaspoon coriander seeds
½ teaspoon ground cumin
¼ teaspoon cayenne pepper
¼ cup fresh coriander leaves
To make:

Start with the filling:
1. Cook potato and kumara until tender then mash together.
2. Using a mortar and pestle gently mix together the coriander seeds, ground cumin and cayenne pepper until the coriander seeds are slightly bruised.
3. Stir the spices in with the potato and kumara mix and add the fresh coriander.
For the parathas:
1. Sift wholemeal and plain flour into a large bowl and add salt.
2. Make a well in the centre of the flour, pour in oil and mix in.
3. Stir in just enough water to create a sticky dough.
4. Turn dough onto well floured surface and knead for 10 minutes.
5. Divide dough into 16 portions. Roll each portion into a circle on a floured surface. Stack the finished rounds between plastic wrap to stop them from drying out.
6. Take 8 of the rounds and spread filling over the dough, leaving an edge of approximately half a centimetre (just under ¼ inch).
7. Brush edges with water and place a round on top. Gently press the edges together. Continue for all 8 rounds.
8. Heat extra canola oil in a large pan. Cook each paratha separately until both sides are golden brown and slightly puffy. Drain on paper towel. Place cooked parathas on a rack in the oven on a low heat (about 100 deg C or 210 deg F) to keep them warm while cooking the rest of the batch.
SaveSave