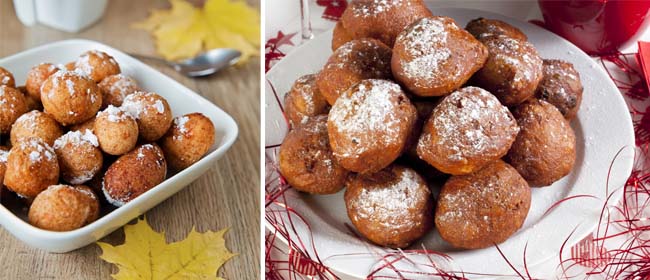 This sweet treat is traditionally made around Christmas and the New Year in The Netherlands, but it's a wonderful snack to enjoy with friends and family at a midwinter dinner party. For those who do not like raisins you can substitute with chopped apple and perhaps add some cinnamon to the mixture. Makes 15-20.
Oliebollen
Ingredients:
100g (3½ oz) raisins
1 tablespoon sugar
4 teaspoons dried yeast
400ml (13 ½ fl oz) luke warm milk
500g (18 oz) plain flour
25g (1 oz) butter, melted
25g (1 oz) sugar
1 teaspoon salt
1 small egg
Oil for deep frying
1 cup icing (confectioner's) sugar (for dusting)
To make:
1. Place raisins in a bowl with enough water to cover them. Mix in 1 tablespoon of sugar and allow to soak for at least 6 hours (overnight is best).
2. Dissolve the yeast in 200ml (6 ¾ fl oz) of warm milk.
3. Place flour in large bowl and add to this the dissolved yeast/milk mixture, the remainder of the milk, the melted butter, sugar, salt and egg. Mix well and let stand for the mixture to rise (1-2 hours).
4. Mix through the raisins and some of the water to attain a thick runny dough.
5. Heat a deep fryer to 180 degrees C (350 degrees F).
6. Using an ice cream scoop, scoop some mixture and gently place into the hot oil. Use the back of a spoon to help you scoop the dough from the ice cream scoop.
7. Make about 3 or 4 at a time and allow to cook for around 6 minutes or until golden brown. Remove from oil and place on paper towels to drain.
8. To serve, dust with icing sugar and enjoy!