Fi Jamieson-Folland tells us how to create a healthy, high-protein, plant-based nut milk in 10 minutes flat.
This is my healthy, easy-to-make version of nut milk, which I call Neat Nut Milk. You'll find lots of different ways to make this nutritious food, although many recipes have a lengthy list of ingredients and need quite a bit of prep time, which isn't always practical. Prep time for Neat Nut Milk is only a matter of minutes, and I've kept the ingredients to only an important few.
Neat Nut Milk
Why? For lots of energy! Ideal for all-go days for you and your family. For when you want to be sure of what's going into your milk and, most importantly, what's been left out.
When? Over your breakfast cereal, or as a mid-morning/afternoon snack. Also a great addition to recipes needing milk. If heating is called for, do this super slowly and ideally not to boiling point. High heat can alter the availability of the proteins, fats, vitamins and phytochemicals in the ingredients.
What you need:
Makes 300-500ml almond milk, depending on your chosen dilution.
300ml filtered water
1-2 cups almonds, pre-soaked in filtered water overnight, drained just before use
½-2 teaspoon raw honey or raw agave (optional)
Method:
Place the almonds into a blender with half the filtered water. Blend for several minutes until smooth.
Gradually add more water to create a thinner milk, if desired, according to your preference.
For a sweeter milk, slowly add in the raw agave or honey whilst the blender is going.
Top Tips:
Your Neat Nut Milk is super-versatile. You can make it with a base of whichever nut or seed you prefer – from brazil nuts to sunflower or pumpkin seeds. My favourites are hazelnut milk and almond milk.
Drink it as a low GI snack or after a work-out.
Use as a convenient base for your smoothies.
In summer, pour into ice cube trays or ice pop containers and place in the freezer for a popular kids' treat.
You can sprinkle your Neat Nut Milk with raw cacao, cacao nibs, carob powder, bee pollen or dehydrated coconut pieces (all available from good health food shops).
For a chocolate nut milk, blend in ½-1 tablespoon raw cacao or carob powder.
Include organic where possible. If that's not possible, use extra soaking time if you can, and rinse well.
When blending solids and more dense ingredients, blend on high for longer than you think is necessary to ensure smooth results.
Chew! Yes, even milk. This mixes your digestive juices and helps to begin digestion before your food reaches your stomach.
Pop any leftovers in a sealed BPA-free container in the fridge and finish the same day. Or store in the freezer for 3 months or so.
Check out the article "The two biggest food preparation mistakes – and how to avoid them" for info on the benefits of soaking seeds.
Bonus Take Away:
If you'd like a recipe for 'Nutolicious', the ideal winter warmer, email me direct at: fi@fijamiesonfolland.com for your copy. Perfect as a treat for the kids, or for when you feel like curling up with your favourite book.
Read more of Fi's articles:
The secret to a strong immune system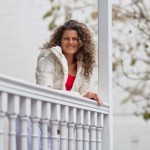 Fi Jamieson-Folland D.O. is a Lifestyle Consultant with over 20 years' experience as a qualified osteopath, educator, writer and health mentor in Europe, Asia and New Zealand. She lives in Auckland with her husband, Chris, relishing an outdoor lifestyle and time with family and friends.