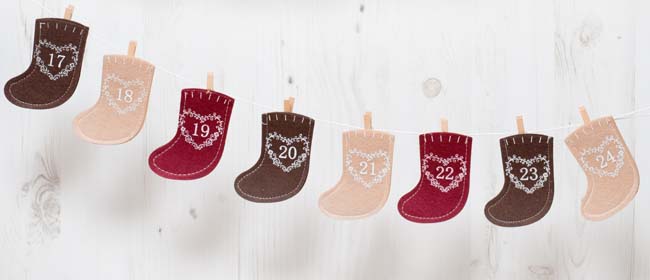 The countdown is on! Make it easier – and a little tastier – with an advent calendar to count down the days until Christmas. These little booties can be filled with sweets or small toys for your little ones to open on each of the corresponding days.
You need:
Selection of felt squares
Heart stamp
Number stamps
White ink suitable for stamping on fabric
Fabric paint in white
White sewing thread
Instructions:
Probably the most time-consuming part of this project is cutting out the bootie shapes. Make a template out of cardboard, then use this to cut out 48 small felt boots.
Stitch pairs together on a sewing machine, leaving the top open.
Stamp a decorative heart onto each bootie, plus a number up to 24.
Paint 'stitches' at the top of each boot.
Fill with goodies!