By Jane
Make Life Easy
My dad and I recently made this fun advent calendar, which doubles as a Christmas tree. In my small home, it suits me perfectly.
How did we do it? We used 12mm MDF and sparkly gold paint from the Resene Metallics range. I bought a few packs of various sized boxes (25 of them) for each day of the month leading up to Christmas. I also bought a pack of sticker numbers for each box.
First up was the cutting. We cut out the shape of a Christmas tree. The full height of the Christmas tree measures 1m (39 inches) and the width, at the longest point, measures 60cm (23 ½ inches). The base of the trunk is 23cm (9 inches) wide.
There are three shelves, each measuring 8cm (3 inches) deep, with the top shelf measuring 12 ½cm (5 inches) long, the middle shelf measuring 37cm (14 ½ inches) long and the bottom shelf measuring 20cm (8 inches) long.
Two supports were cut out, each measuring 30cm (12 inches) high and 12cm (5 inches) at the base. These were fixed to the base of the tree, back to back (one on the front side and one on the back), but positioned slightly apart (one to the left and one to the right) to give better support.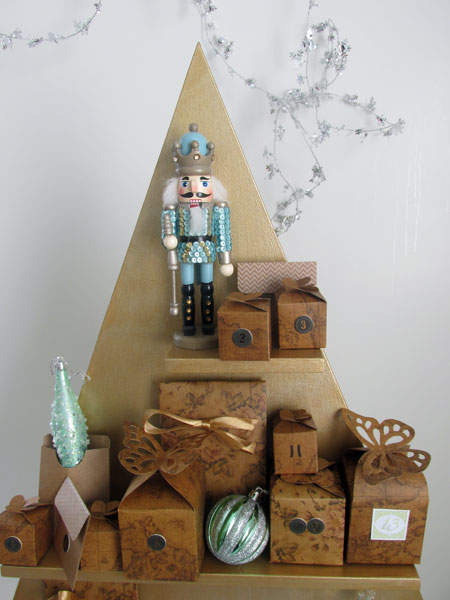 The tree and shelves were then painted with Resene Metallic Gold with a Resene Gimblet undercoat. Check out the Resene Metallics and Special Effects range here.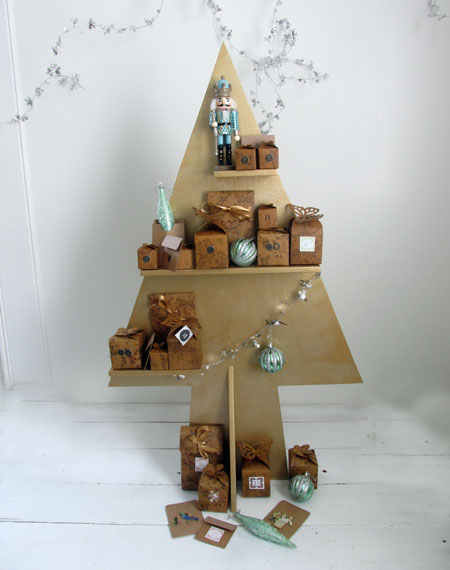 Then it was just a matter of filling the boxes and displaying them.
Happy Christmas!