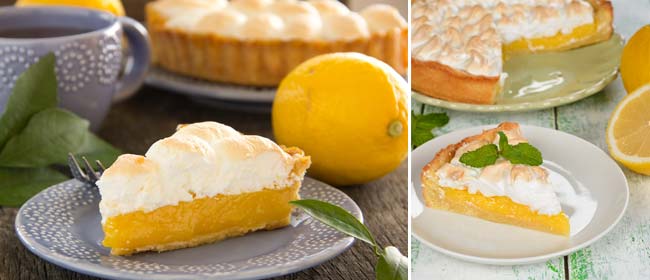 Yolanda Bonfrer uses her bumper lemon crop to make an old favourite.
My lemon trees are straining under the weight of so many lemons and I've had plenty of lemon and honey teas lately. But it's time for lemon meringue pie!
This recipe is very easy, though it does have a few components to it so it takes a little time. But it's oh so worth it. I have made this recipe as a whole pie and also as individual ones baked in muffin tins, which was fabulous for taking along to a coffee catch-up with friends.
Want more? Click here to try Lemon Meringue Cupcakes
Lemon Meringue Pie



Ingredients:
For the base:
175g (4.5 oz) plain flour
30g (2 tablespoons) icing (confectioner's) sugar
70g (2.5 oz) butter, cut into small cubes
Grated rind of ½ lemon
Yolk of 1 small egg
2 tablespoons water
For the filling:
300ml (10 fl oz) water
3 tablespoons cornflour
2 lemons, use both juice and rind
175g (6 oz) caster sugar (5 tablespoons for lemon mix)
2 medium-sized eggs, separated
To make:

1. Place the flour into a food processor along with the icing sugar, butter, lemon rind, egg yolk and half the water. Pulse for a few seconds until the mixture is well blended and resembles breadcrumbs.
2. Empty the mixture onto a clean and lightly floured surface and knead it lightly until it forms a ball. If too dry add a little more water until you achieve the right consistency. Place mixture between 2 sheets of cling film and roll out slightly, then let it rest in the fridge for a minimum of 40 minutes.
3. Preheat oven to 180 degrees C (350 degrees F) and lightly grease a round 22cm (8 ½ inch) tart tin, or muffin tins if you prefer. Remove the pastry from the fridge and roll out on a lightly floured surface to approximately 6mm (1/4 inch) thinkness and line your tin.
4. Using a fork, prick the base all over, then line with baking paper to blind bake the base. Use either dried beans, rice or special pie weights. Bake in oven for 15 minutes.
5. Once baked, remove the baking paper and pie weights and set aside while you make the filling.  Mix a little of the water in a small bowl with the cornflour and place the rest of the water in a saucepan. Mix in the lemon juice and lemon rind and slowly bring to the boil. Add the cornflour paste and, using a whisk, stir briskly. Cook for around 2 minutes.
6. Remove from the heat and allow to cool slightly before adding the caster sugar and egg yolk. Again, whisk briskly to ensure the egg mixes in well, then pour into the pastry base.
7. Place the egg whites in a clean mixing bowl and whisk until stiff. Continue to whisk and slowly add the caster sugar. Cover the pie with the egg white mixture. For best results spoon mixture onto the outside of the pie first and then move inwards.
8. Place in oven at 150 degrees C (300 degrees F) and bake for 30 minutes or until the egg white turns a light brown colour.