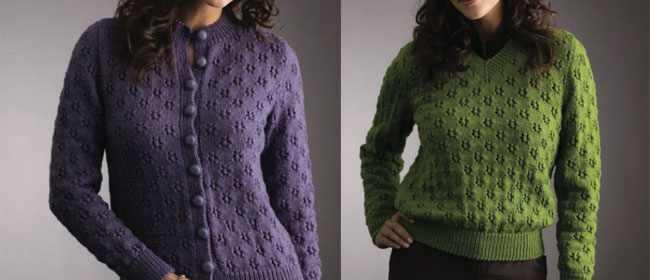 Get your free pattern for this pretty eyelet cardigan and sweater.
This lacy number was created by our friends at Australian Country Spinners. The sizes range from XXS to XL and uses Patons Totem 8-ply yarn.
NEEDLES AND EXTRAS
1 pair each 4.00mm (UK 8) and 3.25mm (UK 10) knitting needles or sizes needed to give correct tension.
2 stitch-holders for Crew Neck Sweater.
1 stitch-holder for Vee Neck Sweater.
Wool needle for sewing seams
3 stitch-holders and 10 (10-10-11-11-11) buttons for Crew Neck Cardigan.
2 stitch-holders and 7 buttons for Vee Neck Cardigan.
TENSION 
22 sts and 30 rows to 10cm over stocking st, using 4.00mm needles.
To work a tension square, using 4.00mm needles, cast on 33 sts. Work 44 rows stocking st. Cast off loosely.
Please check your tension carefully.
If less sts use smaller needles, if more sts use bigger needles.
NOTE – This instruction has been written specifically for the stitch pattern given. Using any other stitch may result in a garment that is the wrong shape or size.
Let's go to it!