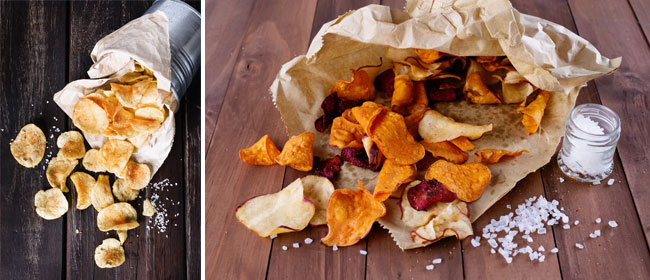 By Jane
Make Life Easy
These homemade chips are so delicious that no one will have the remotest clue they're homemade. Truly. They taste just like the bought ones. But much healthier. And crisp! They are quick to make, too – cooked in the microwave.
Once you've made these I reckon you'll probably want to experiment with all and sundry (like me). Try sweet potato, beetroot and pumpkin chips for more tasty snacks.
But experiment first with one potato. Scrub the potato clean (there is no need to peel it) then slice it thinly. This is where a hand slicer or a food processor with a slicing attachment comes in handy – I used my trusty Kenwood.
Place the slices between two pieces of parchment paper. Season with a sprinkle of salt (not too much) or dried herbs or garlic salt and cook in the microwave for 3-5 minutes, until lightly browned. (My microwave is 1200 watts – so adjust cooking times to suit your microwave wattage.)
And that's it! If they are not crisp, they are not ready. It's as simple as that.
Once cooled, the chips can be stored in an airtight container. Make sure they are completely cooled before storing, or they will go soft.
Note: If slicing potatoes and storing in water until use, make sure you pat the slices dry with a clean tea towel before microwaving, otherwise the slices will take longer to cook and won't be as crisp.