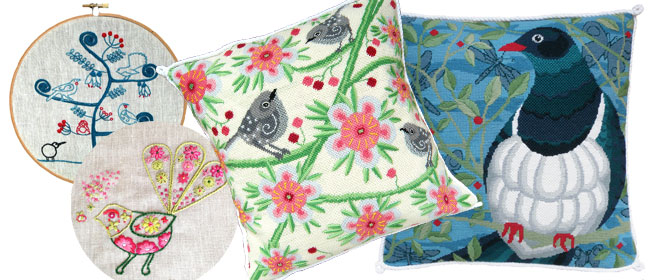 Be inspired by the contemporary needlework designs of Kiwi designer Liz Smith.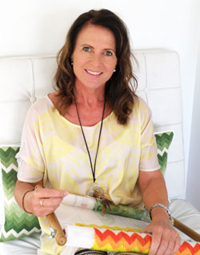 The lovely Liz Smith, aka The Stitchsmith, has been stitching and crafting forever. But it's only recently, after years of travelling and a career in the corporate world, that Liz began stitching professionally and selling her beautiful designs in kitset form.
We talked to Liz about her thriving new business, The Stitchsmith, her highs and lows, and her best tips for budding entrepreneurs in the craft business (or any business, for that matter).
Plus, Liz is giving Sweet Living readers the chance to win one of her beautiful embroidery kits (see giveaway details below).
What sparked your business idea?
I was brought up in a crafty family – my mother taught my sisters and me how to sew, knit and stitch. After years of travelling and working, I quit my corporate marketing job and found myself with a bit of time on my hands and the opportunity to get back in touch with my creative side. I started looking around for New Zealand designs to embroider but at that time there was nothing on the market except a few cross stitch kits. In my naivety I thought it couldn't be that hard to design and produce something a bit more contemporary with a New Zealand focus!
How did your idea become a reality?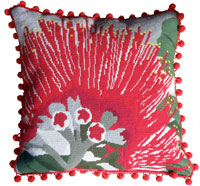 The business just grew organically to start with. I did everything you are not supposed to do – no business plan, no structure, no research. I just launched into it. I did spend a lot of time sourcing supplies, which was the most difficult part, but once I had those things in place it was just a question of contacting some retailers and going from there. The fact that they accepted my products so quickly showed that there was a real gap in the market for authentic, contemporary New Zealand needlework design, so despite my lack of research it turned out okay!
I'm forever grateful to my mother for introducing me to craft at an early age. Despite some truly awful knitted sweaters and some very suspect homemade outfits from back in the day, having some basic skills definitely gave me some confidence to get involved in a craft-based business.
How did you get your products from the kitchen table to buyers?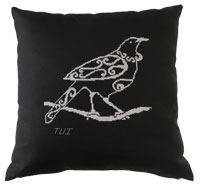 Once I had stitched up my first needlepoint cushion samples, I personally visited all the shops in Auckland I could think of. There are several flourishing needlework shops locally so I started there. All the stores placed an order with me, which was a great boost. I then contacted stores around New Zealand and my products are now stocked from Christchurch to Auckland.
I also contacted a company in Los Angeles, which has become my distributor in the USA. When I initially phoned them I was very surprised to hear a Kiwi accent on the end of the phone. Turns out Brenda and Cheryl from needlepoint-for-fun.com are expat Kiwis – and Brenda and I even have a friend in common. Talk about six degrees of separation!
I also sell direct through my website thestitchsmith.co.nz. As a small business obviously I don't have much of a marketing budget so companies that provide an all-in-one website/shopping cart service are a godsend. I use smallfish.co.nz, which offers a platform for uploading your own content, but they provide site management and a shopping cart. It's incredibly easy for a non-tech person like me!
Social media offers tremendous benefits for small businesses like mine which don't have the funds for traditional marketing channels. Being able to get directly in touch with your customers via Facebook, Flickr and Instagram is fantastic – and free. There are also a lot of free online services available, which make keeping in touch with customers easy and affordable. Mailchimp for example, offers a free e-letter service.
What was your biggest challenge?
Sourcing supplies was quite daunting initially. You would think that a country like New Zealand that has six million sheep would be able to supply tapestry wool. In fact, I have to import wool from the UK, which is frustrating as I would dearly love to use a New Zealand product. Shipping costs continue to be a real handbrake to growth.
What were your five best decisions?
Taking small steps so that I didn't start out with a debt burden.
Following my gut instinct to do what felt right, rather than following a trend.
Listening to customer feedback and if something isn't selling, don't waste any more time on it.
Investing time in learning how to use technology – including social media, my camera and graphic design packages (I still have a long way to go!)
Asking for help. Friends, family and online communities in your industry have a wealth of information to offer.
Best tip/tips for start-ups?
Just start. If I had spent a lot of time researching and writing a business plan I would have been put off before I even started. I have made plenty of mistakes along the way, but these have really helped to shape the business.
Ignore the above – you should probably at least find out if someone out there is at all interested in what you have to offer!
Be aware from the get go that you are unlikely to become rich owning a craft business, so it's important to be honest with yourself and work out what your motivation is. You must enjoy and have a passion for what you do. This will get you through the tough times.
Be realistic about time frames and how much time you have to put into a new venture. If you are still working full time, have children or other commitments, you may not have the time needed to devote to setting up shop.
Take advantage of all the free stuff on the internet – graphics programs, e-letter services, photo-editing software – you will need all these and more.
Get at least a little familiar with your camera. If you are using your phone, find out exactly what it can and can't do (see above re photo-editing software). Good photos are essential for a blog or website.
Greatest achievement?
Seeing the smiles on students' faces in one of my classes as they learn how to embroider. I love teaching – I get such a buzz out of seeing people discover the joys of embroidery and needlework. I aim to get the world stitching – one embroidery class at a time!
Liz Smith
Visit The Stitchsmith website here.


** GIVEAWAY!!
Liz Smith is giving Sweet Living readers the chance to win this beautiful Bee Meets Fantail embroidery kit. The kit includes:
100% beige linen printed with the design
Needle
Colour and stitch guide
The design is great for cushions or wall art. Design size: 15 cm x 12 cm
To ENTER THE DRAW, simply post a comment below. You could just say 'hello', or tell us who you think this kit would be good for (yourself, or as a gift to a friend).
COMPETITION CLOSES MIDNIGHT ON 21ST DECEMBER, 2014, NZ TIME.