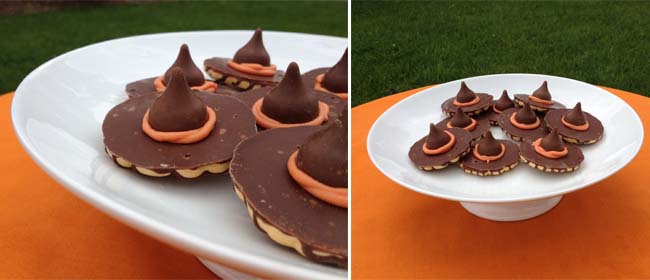 Looking for a quick and easy treat to make for Halloween? These cute little witches' hats take less than 15 minutes to whip up. The hardest part is resisting the urge to eat the Hershey's Kisses!
Halloween witches' hats
You will need:
1 packet of Griffin's Cookie Bear Stripes biscuits (or similar)
1 packet of Hershey's Kisses (caramel flavoured)
Orange icing
To make a basic icing:
This is sufficient to cover 1 dozen biscuits. Try green icing or a wickedly black one for a different look.
Ingredients:
1/3 cup icing (confectioner's) sugar
1 teaspoon softened butter or margarine
1 teaspoon water or milk
Orange food colouring (we used yellow and red to make orange)
To make icing:

1. Combine butter and icing (confectioner's) sugar in a small bowl.
2. Add half a teaspoon of water (or milk), stirring, then slowly add the rest of the water until you achieve the desired consistency.
3. Add a small amount of food colouring. We combined yellow and red food colouring in a cup, then used a teaspoon to add a small amount to the icing until we were happy with the result.
Putting it all together:

1. Snip off one corner of a zip lock or other plastic bag and insert a piping nozzle (with small round tip) into it. Or use a conventional piping bag.
2. Place icing inside the bag, and twist the bag to seal in the icing (as you would with a conventional piping bag).
3. Turn your biscuits upside down and pipe icing around the holes in the centre of each biscuit.
4. Place a Hershey's Kiss on top of the icing and push down gently.
5. Pour a cup of tea and enjoy your handy work. It's that easy!
Happy Halloween!