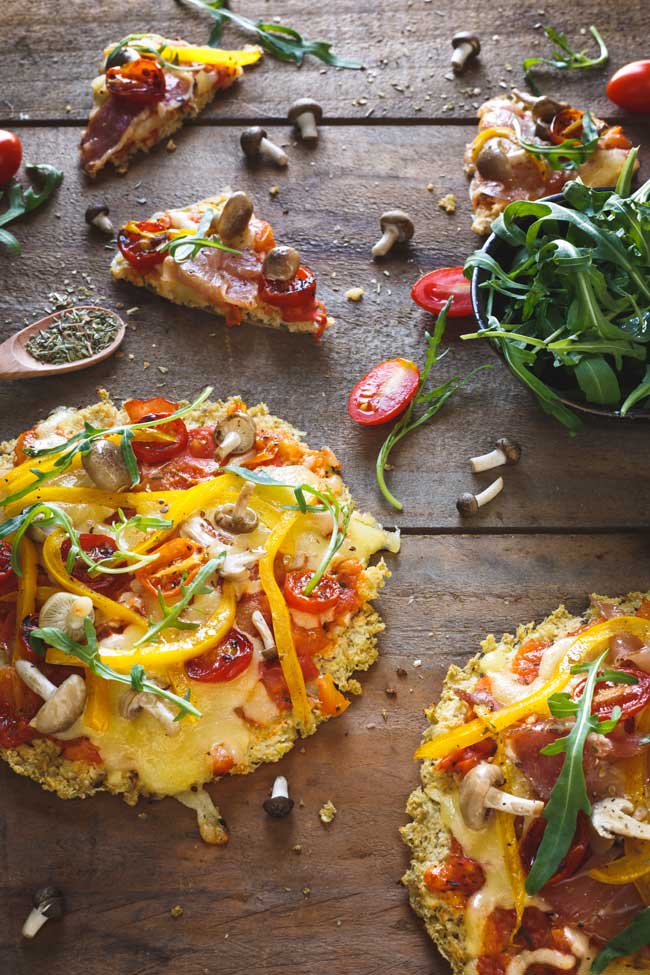 This pizza crust is incredibly tasty. It makes a fine gluten-free, vegetarian dish, although you can add meat, like salami or prosciutto, if desired.
You might wonder why you have to cook the cauliflower first; that's so that it softens and is easy to mould into shape – and stick.
You can choose whatever extra toppings you like, but my absolute favourite toppings are mushrooms, capsicums and prosciutto.
Ingredients
1 large cauliflower, leaves removed
1 large egg
¼ cup grated parmesan cheese
1 teaspoon mixed herbs
1/8 teaspoon salt
Few grinds black pepper, to taste
1 tablespoon vegetable oil (for brushing on base)
Topping
2 tablespoons tomato paste
1-2 garlic cloves (2 if you like it garlicky), finely chopped
1 cup grated mozzarella cheese
Extra Toppings: mushrooms, capsicums (bell peppers), cherry tomatoes, prosciutto, rocket, etc.
Method
Preheat oven to 220deg C (425deg F). Line a baking tray with baking paper and set aside.
Place individual cauliflower florets and chopped stems into a food processor in batches and process until it looks like rice (you can use a grater if you do not have a food processor). Yields about 8 cups. (This, of course, will depend on the size of your cauliflower.)
Transfer to a large microwave-safe bowl and cook for 8 minutes. The cauliflower should be soft. Allow to cool. It will cool quicker if it's spread out on a tray.
Place cauliflower onto a clean tea towel and squeeze to remove the moisture. (You might like to do this in 2-3 batches). Squeeze many times – there is a lot of moisture to come out! For 8 cups of cauliflower you will get about 1.5 cups of juice (you can freeze this juice to use in stocks). Make sure you squeeze and squeeze. If you don't, your crust won't be crisp.
Place the squeezed cauliflower pulp in a mixing bowl, add the egg, parmesan cheese, herbs, salt and pepper and mix together.
Spread the cauliflower mixture onto the prepared baking tray, pushing down with your fingers to form one large or two smaller pizza bases. Using a pastry brush, brush the vegetable oil over the base.
Bake for 20 minutes.
Remove from the oven, spread the tomato paste over the base, sprinkle over the garlic, then add the mozzarella cheese. Then add your final toppings. Bake for another 15 minutes.
Top with rocket and serve.