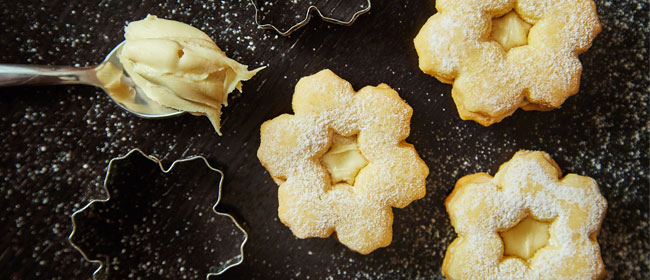 Does it get any sweeter than a classic custard cream cookie?
For a prettier version of the classic custard cream cookie, use a small cookie cutter to cut a star or flower shape in the centre of the dough.
Ingredients
175g butter, softened
½ cup icing sugar
¼ cup caster sugar
2 teaspoons custard powder
2 large egg yolks
1 teaspoon vanilla extract
2 ¼ cups plain flour
Custard Filling
100g butter, softened
1 cup icing sugar
2 tablespoons custard powder
Method
1. Place butter, icing sugar, caster sugar, custard powder, egg yolks and vanilla extract in a food processor and process until smooth and creamy.
2. Add flour and process until the mixture starts to form a dough. Tip into a large mixing bowl and knead with hands until dough comes together.
3. Wrap the dough in plastic wrap and place in the fridge for 30 minutes.
4. Preheat oven to 180deg C (350deg F) . Line two baking trays with baking paper.
5. Roll the dough out about 5mm thick on a floured surface. Use a cookie cutter to cut out shapes. Use a smaller cutter to cut shapes in the centre of half the cookies.
6. Transfer the cookies onto the baking trays and bake for 8-10 minutes, or until just starting to brown. You may wish to swap the trays around halfway through baking for even cooking. Place the cookies on a wire rack to cool.
7. To make the filling, beat the butter, icing sugar and custard powder with an electric beater until the cream starts to come together. I then use my hands to knead the cream until mixed thoroughly. Fill cookies with cream when cold.