In her new book, Mum's the Word, Danielle Wright shares everyday ideas to create a fun family life.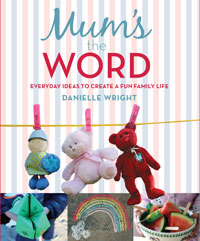 When kids come along, there's a whole new set of skills to learn – overnight! Parents are told that the early years are the most important but are often lost for ways to stimulate young children and keep boredom at bay. With Danielle Wright's new book, Mum's the Word, all parents, and particularly mums, can be armed with ideas for toys and games, tasty treats to make, places to go and exciting things to do at home.
This is a really fun book with practical advice, recipes and useful tips for inventive and educational games and activities. Lots of great inspiration.
Extracted with permission from Mum's the Word: Everyday ideas to create a fun family life by Danielle Wright. Published by New Holland, RRP $26.99.

Play Dates
Play dates are an exciting part of a child's world. Here are some crowd-pleasing food options to try when your children have friends over to play.
POPCORN SNACKS
For healthy microwave popcorn, use a brown microwaveable paper bag, add ½ cup popcorn kernels and fold the top over a few times (don't use staples, paperclips or anything metal). Heat in the microwave for 2–3 minutes and then add 1/3 cup melted butter and sea salt or 1/3 cup icing (confectioner's) sugar if you like sweet popcorn.
Chunky Monkey Popcorn
A fun way to serve popcorn at play dates is Chunky Monkey popcorn. For a healthier popcorn, make it by heating 1/4 cup coconut oil in a pan with 1/3 cup popcorn kernels. When popped, toss the popcorn in sea salt to taste and add pretzels, banana chips and chocolate chips. Serve in cupcake cases and remember to never leave a young child unsupervised when they are eating popcorn.
SANTA GRINCH SNACK
For Christmas play dates, put a green grape on to a toothpick, then add a slice of banana, a strawberry cut with a flat bottom and a mini marshmallow at the end for a Santa Grinch snack.
FRUIT SLICES
Slices of fruit can be presented in so many easy-to-prepare ways. Cut oranges by topping and tailing the ends and then cut them into quarters to make it easier for little mouths to bite into them. Use apple slicers to core and cut apples into wedges really quickly – then you can put them in a bowl of water until you are ready to serve them to stop them going brown. Avoid cutting apples into small pieces because they can then become a choking hazard. There is also a tool (known as an 'apple peeler corer slicer') that turns an apple into curly apple pieces, like curly fries. It's a good investment and children love to turn its handle and watch the apple magically have its core and skin taken off to turn into an apple spiral to pull apart.
Cut an unpeeled banana at one end, cut a line down the middle of the skin and slice the banana so the banana pieces are still in little jackets to be easily peeled and eaten. This will stop the banana turning brown too quickly.
Another fast but fun fruit snack is watermelon cut into wedges with an ice cream stick inserted to create a 'watermelon ice cream' – these can also be frozen. To serve, you could place the wedges on a shallow tray of ice to keep the watermelon fresh on a hot summer's day.
CRACKERS AND CHEESE
Simple foods, such as crackers and cheese, tend to work well for play dates. There are so many variations, including round rice crackers, five-grain crackers, homemade bread sticks or tiny toast crackers (sometimes known as petits toast). For a fun presentation, make a mouse cracker by adding a wedge of cheese to a cracker, poke in a curly piece of apple skin for the tail, add tiny round pieces of salami for ears, black sesame seeds for eyes and a half an olive for a nose.
APPLE 'DOUGHNUTS'
Core an apple and slice it so each piece has a hole in the middle (just like a doughnut). Top the 'doughnuts' with Greek yoghurt 'icing' and a topping added by the children – choose from sprinkles, jelly beans, coconut, banana chips, pineapple pieces, poppy seeds, nuts and even chocolate spread as the icing. It's a fun, bite-sized and healthy treat that looks more decadent than it is. You could even sprinkle on some popping candy.
VEGETABLE FLOWERS
Vegetable sticks can be made to look like flowers in a jar. Use a glass for a vase and add celery sticks (some with the leaves on) for the foliage, skewers with cherry tomatoes and long slices of carrot and cucumbers cut with a flower-shaped cookie cutter added to wooden skewers. It's the perfect edible arrangement and will get the children more interested in eating vegetables.
COOKIE HATS
Doughnut-shaped cookies (biscuits) can be placed on the top of mini milk bottles with straws through their middles to hold them in place. This is a nice way to serve the milk and cookies together.
FONDUE DIPPERS
If you have a fondue maker, create a cheese fondue with day-old bread squares, or chocolate fondue with pieces of strawberry, kiwi and dried fruits. It will be fun for the little friends to share their meal.
CORNFLAKE HONEYJOYS
Provide something sweet while adding cereal to balance out the sugar rush. Preheat the oven to 150°C (300°F). Melt 90g (3½ oz) butter, 1/3 cup sugar and 1 tbsp honey in a pan until the ingredients become frothy. Pour over 4 cups of cornflakes and mix everything together. Put the mixture into cupcake cases and cook for 10 minutes (be careful not to overcook, these burn easily). Sprinkle hundreds and thousands over the top, if liked.
Another cereal idea is to chop up rice bubble bars into squares and ice, then decorate.
FRUIT COOKIES
Cut out fruit shapes from watermelons, apples, or other fruit with cookie cutters in shapes such as stars, flowers or hearts, and then spread some vanilla or thick Greek yoghurt on top and decorate with hundreds and thousands.
PLACENAME FRUIT SKEWERS
Get your children to cut out letters from melon with alphabet cookie cutters and thread them on to bamboo sticks for their friends who are coming over to play, then leave them on their place setting.
CHOOSE A TOPPING
Using a large plate or a plastic flower-shaped paint palette, put a cupcake (or ice cream) in a cup or flat-bottomed cone in the middle with toppings around the sides. This provides an opportunity for the kids to be more interactive with their food and a nice talking point between the friends. Older children might like to help with baking the cupcakes right at the start of the play date.