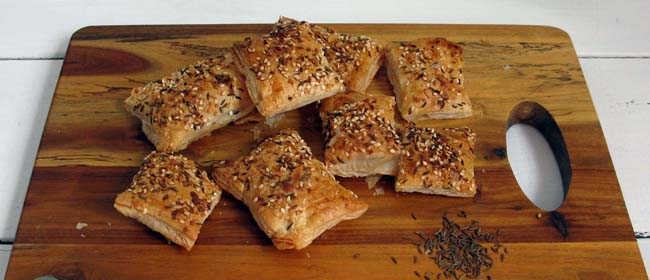 You can make these savoury snacks in just 15 minutes – which is ideal for those unexpected guests, or as a simple yet tasty party food.
Method:
Defrost a sheet of ready-rolled puff pastry. Whisk 1 egg yolk with 2 tablespoons water then brush onto dough (you will have enough egg wash left over to brush several more pastry sheets). Cut dough into squares or rectangles.
Mix together 1 teaspoon caraway seeds, 1 teaspoon sesame seeds and 1 tablespoon chopped almonds. You can use other nuts or seeds as well, such as sunflower, pumpkin and poppy seeds, and herbs.
Sprinkle seed mix over pastry, add Himalayan salt if desired, then cook in preheated oven at 200degC for 10-12 minutes, or until golden. Serve warm or cold.
Makes about 16.