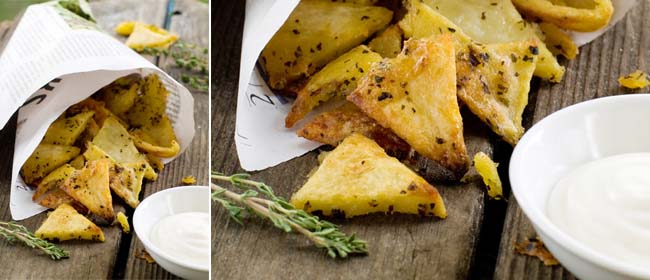 Even the Mayo Clinic recommends these crispy wedges as a healthy snack. Serve them hot, on their own, with sour cream (OK, so the Mayo Clinic doesn't recommend that) or with a herb dip. The scooped out flesh can be used to make fritters, fishcakes or mashed spuds.
Crisp potato skins
6 small to medium sized potatoes
Olive oil
Salt
Fresh rosemary, finely chopped
1. Preheat oven to 200degC.
2. Scrub potatoes clean, prick with fork then bake for 45 mins to 1 hour, until the potatoes are cooked through. Remove from oven and allow to cool.
3. Cut potatoes in half lengthways and scoop out the flesh with a spoon, leaving about 5mm of flesh on the skins. Cut into wedges.
4. Brush both sides of wedges with oil and set them on a wire rack inside a roasting pan. Season with salt and sprinkle with rosemary. Bake for 30 minutes, turning once, until crisp.
5. Serve with sour cream or sweet chilli sauce.