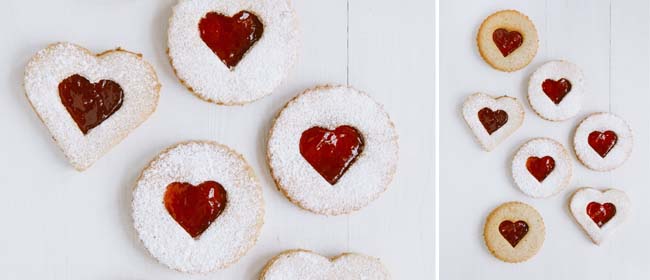 These jam-filled biscuits are always a hit with friends and family. Stamp out a heart shape in the centre and your Valentine will love them too.
Shrewsbury cookies
125g (4 ½ oz) butter
50g (2oz) caster sugar
1 egg yolk
200g (7oz) flour, sifted
50g (2oz) ground almonds
Raspberry jam
1-2 Tbsp icing sugar
Preheat oven to 180 deg C (350 deg F).
Cream butter and sugar until light and fluffy. Add egg yolk and beat well. Add sifted flour and ground almonds.
Knead well to form a smooth, firm dough. Wrap in plastic film and chill in refrigerator for 30 minutes.
After chilling place on a lightly floured bench. Roll out to a 4mm thickness.
Cut out rounds using a cookie cutter. On half the rounds use a small heart-shaped cookie cutter to cut out hearts.
Place on greased baking trays and bake for 10-15 minutes. When cold spread the whole rounds with raspberry jam. Dust the cut rounds with icing sugar and place on top of the whole rounds.