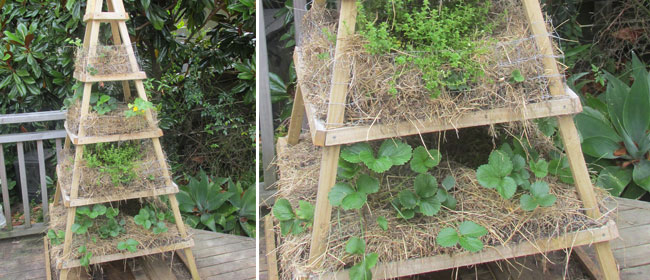 Short on space? No problem. Plant upwards. Editor Jane Wrigglesworth builds a wooden tower for her strawberries. 
Even with a small garden patch you can still plant your own fruit and veggies. You just need to get a little creative. My dad and I built this A-frame strawberry tower, which can easily fit in the garden, or on a deck or patio. We also used scrap wood – cut down fence paling that we used for another project.
For this project, I used Daltons Easy Lift Potting Mix, which is lightweight and full of goodies. It's been designed for those who need to carry a lighter load, containing coco fibre for improved water holding and healthy root growth, plus Permawet wetting agent. That means your containers won't dry out so quickly. It also contains controlled-release fertiliser for 8 months' feeding.
You need:
Treated wood
Wire mesh
Screws
Hay or straw
Daltons Easy-Lift potting mix
Saw
Power drill
Staple gun
Wire cutters
Clamps
Method:
1. Cut four lengths of wood to your desired height. My tower is 2m (79 inches) high. The four lengths measure 2m x 35cm x 35cm (79 x 14 x 14 inches) each. The width of the tower at the bottom is 88cm (35 inches). Cut an angle at the top of the four lengths so each pair sits together like an A-frame.
2. Make two A-frames, screwing each pair together at the top.
3. Lay one A-frame on its side and hold a piece of wood where you want the first planting level to go. Mark with a pencil on the underside where to cut it so that the wood follows the angle of the A-frame. Cut, using the pencil marks as a guideline. Cut three more to this size. Repeat for the other levels, cutting four pieces of wood at equal length for each level.
4. Clamp pieces of wood to the frame, then screw in place. Repeat for the other frame. Then stand both A-frames upright and screw in the remaining side pieces.
5. Cut wire mesh to fit each level on your tower, allowing an extra 15-20cm to go beyond the edges. Staple a wire piece at each level then bend up the sides to form a kind of basket.
6. Add hay or straw to cover the bottom and sides (for a more permanent solution, use horticultural fabric instead of hay), then add potting mix. Then plant up. I planted strawberries and herbs, plus a cucumber with the idea of it trailing down.